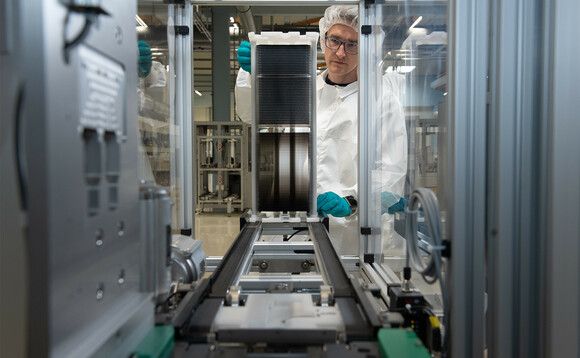 Image: Credit: Oxford PV
UK solar pioneer claims to have developed solar cell with a record-breaking efficiency rating using its perovskite-on-silicon solar cell technology
UK perovskite solar pioneer Oxford PV has developed a new commercial-scale solar cell which it claims has achieved a fresh world record for power generation efficiency.
The solar cell can reportedly convert 28.6 per cent of the sun's energy into electricity, beating the firm's previous record of 26.8 per cent, which was independently certified in May last year.
It means the firm's latest solar cell offers 1.5 cent more efficiency compared to the cell which achieved the previous record a year ago.
The University of Oxford spin-out said is innovative cells offered "substantially higher" efficiency than that of mainstream silicon-only solar cells, which average 22-24 per cent efficiency.
Chris Case, chief technology officer at Oxford PV, said the latest achievement exceeded the company's ambition to boost its cell efficiency by one per cent annually.
"Solar is already one of the least expensive and cleanest forms of energy available, and our technology will make it even more affordable," he explained. "Solar panels integrated with Oxford PV's solar cells produce more electricity from the same area, making them highly attractive for residential and commercial rooftops. For utility-scale solar farms, our technology will also help them reduce land usage and maintain biodiversity."
Oxford PV's solar cell technology combines a thin layer of perovskite - a synthetic solar conversion material - with conventional silicon cell technology, which it claims come together create a "more powerful" cell capable of generating at least 20 per cent more electricity from sunlight compared to silicon-only cell technology.
The efficiency world record of the latest cell was independently certified by the Fraunhofer Institute for Solar Energy Systems in Germany, Oxford PV said.
"This world record on a large-area cell is our second in two years and marks another milestone for our technology," said David Ward, Oxford PV's CEO. "While we continue to innovate on our perovskite-on-silicon technology on small research-sized solar cells, much of our focus has been on improving our commercial-sized cells for the market, ramping up production, and working with our solar module partners to prepare them for assembly into solar panels."
Founded in 2010, the firm is a spin-out from the University of Oxford, which develops perovskite-on-silicon technology based on research-sized cells at its research and development centre in the city.
Earlier this month, however, the company decried the lack of incentives for solar in the UK, as it revealed it was currently looking to the US or Germany to build its first full-scale factory, and that it may even opt to list in Hong Kong in order to secure more investor backing.
The company already has a pilot factory near Berlin, Germany, where it said it is focusing on scaling up and continuously improving the manufacturing of commercial-sized devices. It also plans to expand its operations to America and recently registered for a subsidiary in the US.