China's hydrogen energy research institutions and enterprises have made progress on both the technology and its application, boosting the potential for the future commercial use of this clean energy source, according to experts attending the ongoing Zhongguancun Forum in Beijing.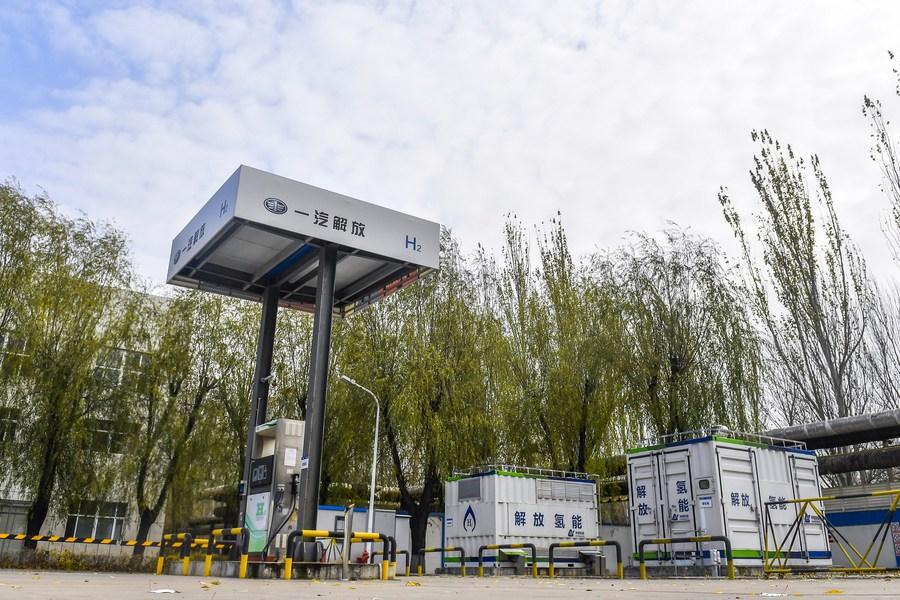 A hydrogen refueling station of Chinese truck maker FAW Jiefang is seen in Changchun, northeast China's Jilin Province, Oct. 31, 2022. (Xinhua/Xu Chang)
Sun Baigang from the Beijing Institute of Technology said that, as a trend in international technology development, hydrogen energy is one of the best options for achieving carbon peaking and neutrality, while the hydrogen internal combustion engine is ushering in new development opportunities.
The hydrogen internal combustion engine has passed through the initial stage of development, and researchers are working to make it more powerful and efficient while maintaining its advantage of zero emissions, he said on Friday during a sub-forum on new types of energy storage and hydrogen energy industry development.
Qu Hongliang, general manager of Sinopec Yanshan Petrochemical Company, said that the company is stepping up the construction of a fuel-cell hydrogen purification facility with a design capacity of 10,000 normal cubic meters per hour.
Once it is put into use, it will produce 20 tonnes of hydrogen for fuel cells each day, enough to power the operation of 1,500 buses, he added.
The company is currently researching the catalyst and proton exchange membrane, as well as other materials and equipment for hydrogen production by water electrolysis, according to Qu.
The sub-forum gathered more than 300 people, including experts in the field of new energy storage and hydrogen energy industry, and representatives from domestic and overseas enterprises, industry associations and investment institutions.