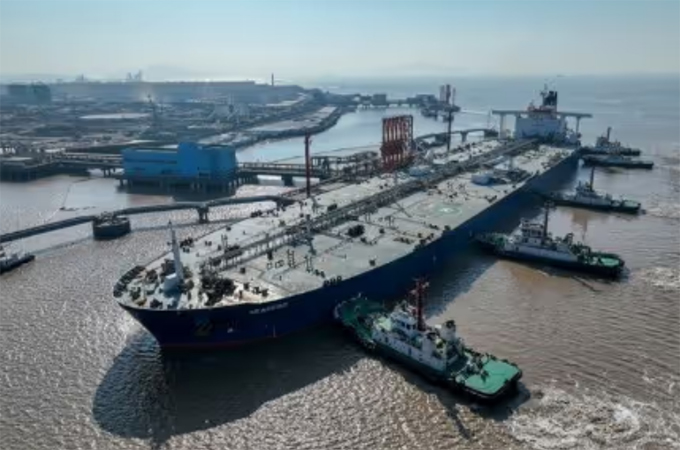 China's independent oil refiners are ramping up fuel oil imports to process into gasoline and diesel amid robust refining margins as ongoing cargo inspections at refining hub Shandong have cut off supplies of lower-priced feedstock bitumen blend.
The independent refiners, known as teapots, are mainly based in China's Shandong province, where the government has increased inspections to identify instances where crude oil is mislabelled as bitumen blend, a mix of Venezuelan heavy oil and residue fuel used to produce road-paving asphalt.
The inspections are forcing refiners to turn to fuel oil instead of bitumen blend driving the higher fuel oil imports, said traders and analysts.
Fuel oil arrivals, predominantly declared as from Malaysia and Russia, may reach 2.3 million tonnes this month, according to estimates by tanker trackers Refinitiv and Vortexa. That is down from the 2.67 million tonnes imported in April, according to Chinese customs data, a 10-year high.
Diluted bitumen imports sank to 121,000 tonnes in April, customs data showed, the lowest since August 2019, and a fraction of March's 1.42 million tonnes. May imports could be even lower, traders said.
"Fuel oil benefited from the bitumen mix saga," said a senior trader supplying Shandong, adding that record imports arrived even as the authorities also tightened checks on fuel oil.
Crude, unlike bitumen mixture, is subject to strict import quotas, while Beijing manages fuel oil imports via a looser quota system. Independent refiners often switch to lower-priced fuel oil or bitumen mix when short of crude quotas.
Amid the customs checks, companies have avoided importing bitumen blend while others have rebranded cargoes as crude oil using import quotas as authorities move to draft up quality specifications for the product to stop the mislabelling, traders said.
The inspections have limited the teapots' throughput to 64.3 per cent of their capacity as of May 24, higher than April but below earlier expectations, despite robust domestic refining margins, said Zhou Mi, an analyst at Chinese consultancy JLC.
Most of the bitumen mixture imports are blended from Venezuela's heavy crude Merey but branded as sourced from Malaysia, a transhipment hub, to circumvent US sanctions on the South American exporter, Reuters has reported.
Fuel oil imports classified as from Malaysia and Russia have surged since the start of 2023, as western sanctions on Moscow forced a diversion of Russian fuel from Europe to Asia, sometimes via transhipment in the UAE, traders said. -Reuters