On 24 May 2023, at SNEC 2023, LONGi announced its new record of 31.8% conversion efficiency achieved by its perovskite tandem cell on commercial CZ wafers, which confirmed by Fraunhofer ISE, the largest solar research institute in Europe. The new record is the third highest in the world and the first in China.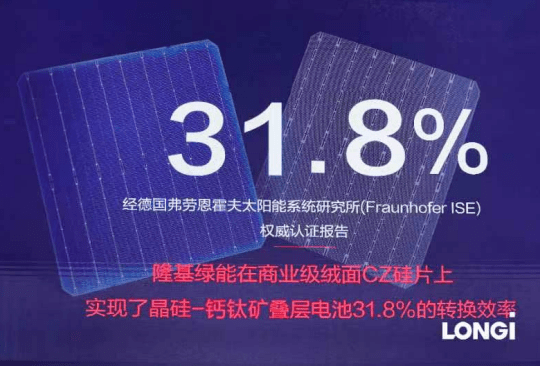 Conversion efficiency is essential for solar cell manufacturers as it indicates how much energy can be converted from sunlight by the PV solar cell or module, and is the key indicator to evaluate the innovation and development capability of a PV company. And LONGi is very proud that its R&D team has a long track record of delivering greater value to end users through continuous technological innovation.
As a world's leading solar technology companies, LONGi remains at the forefront of innovation in cutting-edge PV technologies. The company has set an impressive series of efficiency records with its n-type TOPCon, p-type TOPCon, n-type HJT, p-type HJT and indium-free HJT cells, achieving world conversion efficiency records more than twelve times.
In addition, as the "record holder" of the highest efficiency in the solar industry, LONGi is launching Hi-MO 7, a new product based on HPDC technology, at the SNEC. The product retains the standard M10 module size, with a mass production power of 580W and a conversion efficiency of 22.5%. It is an ultra-high-value modular product developed by LONGi for large ground power stations around the world, ushering in the "Terawatt Era" with built-in innovations. To date, LONGi has formed a multi-dimensional product matrix with "Hi-MO 5+Hi-MO 7" focusing on the utility market and Hi-MO 6 focusing on the distributed generation market, providing global users with the best value experience of efficient and steady profits throughout the power plant life cycle.
LONGi has now achieved overall leadership in a number of new high-efficiency cell technologies, but is not stopping its research and development of solar products. In the future, the company will focus on the commercialisation of solar PV products, contributing to the achievement of China's Dual-Carbon goals and promoting clean energy solutions in the world.