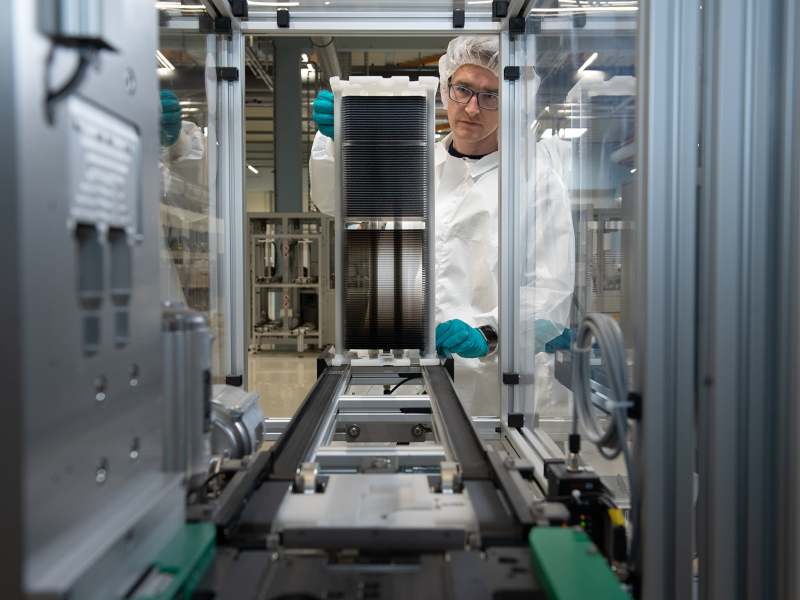 Image credit: Oxford PV
Oxford PV has set a new world record for the efficiency of a commercial-sized solar cell having converted 28.6% of the sun's energy into electricity.
Oxford PV, UK-based developer of perovskite-based solar technology is a spin-out from the University of Oxford.
The new record, independently certified by Fraunhofer ISE, was achieved on a commercial-sized 'M4' (258.15 cm2) solar cell. The cell is a two-terminal device made by depositing a perovskite thin-film cell onto a conventional silicon heterojunction cell.
The combined 'perovskite-onsilicon' tandem solar cell achieves a conversion efficiency that is substantially higher than that of mainstream silicon-only solar cells, which average 22–24%.
The solar cell was produced at Oxford PV's integrated production line in Brandenburg an der Havel, Germany. The factory has commenced initial production of the company's tandem solar cells for integration by solar module manufacturing partners and is ramping up to higher volumes. The site, operational since 2017, houses the world's first volume manufacturing line for perovskite-on-silicon tandem solar cells and employs more than 70 staff.
Chris Case, chief technology officer at Oxford PV, said: "Our latest efficiency achievement of 28.6% is more than 1.5% above our record set last year and exceeds our own roadmap plan of 1% annual increases. These record-setting solar cells are made on the same production line as our 27% efficient commercial solar cells, which already meet strict performance and reliability targets.
"Solar is already one of the least expensive and cleanest forms of energy available, and our technology will make it even more affordable. Solar panels integrated with Oxford PV's solar cells produce more electricity from the same area, making them highly attractive for residential and commercial rooftops. For utility-scale solar farms, our technology will also help them reduce land usage and maintain biodiversity."
David Ward, CEO at Oxford PV, said: "This world record on a large-area cell is our second in two years and marks another milestone for our technology.
"While we continue to innovate on our perovskite-on-silicon technology on small research-sized solar cells, much of our focus has been on improving our commercial-sized cells for the market, ramping up production, and working with our solar module partners to prepare them for assembly into solar panels. Our team has made excellent progress during 2023 and our innovative solar cells are close to being in the hands of our module-manufacturing customers."