China-based Gotion High-Tech launched its L600 Astroinno lithium manganese iron phosphate (LMFP) battery cell and pack at the 12th Gotion Technology Conference. This manganese-doped LMFP Astroinno battery features a gravimetric energy density of 240Wh/kg, a volumetric energy density of 525Wh/L, a cycle life of 4000 times at room temperature, and a cycle life of 1800 times at high temperatures, according to Dr. Cheng Qian, Executive President of the International Business Unit of Gotion High-Tech.
Volumetric cell-to-pack ratio has reached 76% after adopting the L600 cell, and the system energy density has reached 190Wh/kg, surpassing the pack energy density of current mass-produced NCM cells, said.
It is due to the high energy density of Astroinno battery that we can enable a range of 1000km without relying on NCM materials.
—Dr. Cheng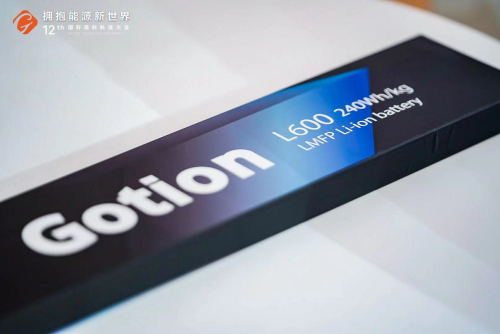 L600 Astroinno battery cell
According to Dr. Cheng, after ten years of in-house research on lithium manganese iron phosphate (LMFP) materials, Gotion High-Tech solved the challenges of Mn dissolution at high temperatures, low conductivity, and low compaction density through utilizing co-precipitation, doping encapsulation technology, new granulation technology and new electrolyte additives.
Gotion High-Tech's breakthroughs in LMFP, on the one hand, are due to the forward-looking materials deployment of the company, which obtained the "New Product Certificate of IFP1865140-15Ah Prismatic LMFP Battery" in 2014, and received the "New Product Certificate of LMFP Carbon Composite Cathode Materials for Lithium-ion Batteries" in 2016; on the other hand, the achievement is also attributable to the company's R&D efforts worldwide.
Its research institution in Cleveland, Ohio has developed a new electrolyte for LMFP, which has greatly improved the cycle and storage performance at high temperatures. With its in-house LMFP materials and electrolytes, Gotion High-Tech successfully developed the Astroinno L600 battery cell.
The LMFP Astroinno L600 battery cell is scheduled to begin mass production in 2024, said Dr. Cheng.
According to Dr. Cheng, in addition to the upgrade and innovation of the battery material system, there are also several technical breakthroughs and innovations concerning the Astroinno battery pack developed based on the new battery cell.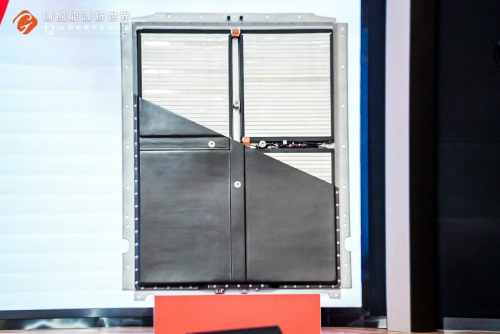 Astroinno battery pack
The Astroinno battery pack adopts sandwich-structure double-sided liquid cooling technology and a minimalist design approach, which reduces the number of structural parts of the battery pack by 45% and lowers the weight of structural parts by 32%.
The minimalist electrical design enables the length of the battery pack wiring harness to drop from 303 meters to 80 meters—only 26% of that of previous battery packs—but the volumetric cell to pack ratio has reached 76% and the pack energy density has reached 190Wh/kg, outperforming the energy density of NCM batteries currently on the market.
In other words, without adopting the NCM battery system, Gotion High-Tech's Astroinno battery pack has achieved a range of 1000km for the first time in the industry, and achieves more than 1800 cycles of 18-minute fast charging.
In addition, intrinsic safety is also the main advantage of Astroinno battery pack: the thermal decomposition temperature of the materials it used is much higher than that of ternary materials, which makes the materials intrinsically safe. The in-house thermal insulation materials can withstand a high temperature of up to 1200°C, which is equivalent to putting a layer of heat-insulating skin on the battery cell surface, and it provides four layers of ultimate safety protection through rapid heat exhausting channels set for extreme circumstances and active safety BMS.
The product has passed all penetration, hot box, overcharge, over-discharge, thermal runaway, crush, and short circuit tests according to the new national standard.
On 10 May, Gotion High-Tech announced that its wholly-owned subsidiary, Hefei Gotion High-Tech Power Energy Co., Ltd. received a procurement letter from Volkswagen AG and that the company has thus become a designated supplier for the automaker's overseas markets. (Earlier post.)