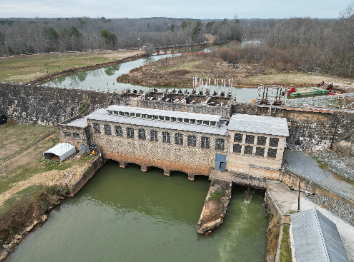 (photo courtesy Northbrook Energy)

Attendees at HYDROVISION International 2023 can access an in-the-field technical tour that visits a hydroelectric plant and the Electric Power Research Institute's laboratories.
HYDROVISION International is being held the week of July 10 at the Charlotte Convention Center in Charlotte, N.C., U.S.
Monday, July 10, features a full-day tour:
This tour starts with a visit to a historic hydroelectric plant in South Carolina and concludes with insights into the Electric Power Research Institute's laboratory capabilities related to hydropower.
First, tour attendees will see the 6.5 MW Gaston Shoals hydroelectric plant, which started producing electricity the same year Henry Ford rolled out his first production vehicle. The plant, on the Broad River, is owned by Northbrook Carolina Hydro. You will tour the 1908 rubble masonry powerhouse and see three rubble masonry gravity dams. Today, the powerhouse contains two horizontal "Seagull" turbines and one vertical Francis unit that was added in 1923. In just the past 10 years, over $10 million in capital has been invested in the Gaston Shoals project to ensure long-term, renewable power will be provided to the local utility, Duke Energy Carolinas.
Next, attendees will visit one of EPRI's laboratories in Charlotte and learn about the work done there that can be related to hydropower. This includes work in the Welding Laboratory, Machine Shop, Metallurgical/Microscopy Laboratories, Nondestructive Evaluation (NDE), and Transmission & Corrosion.