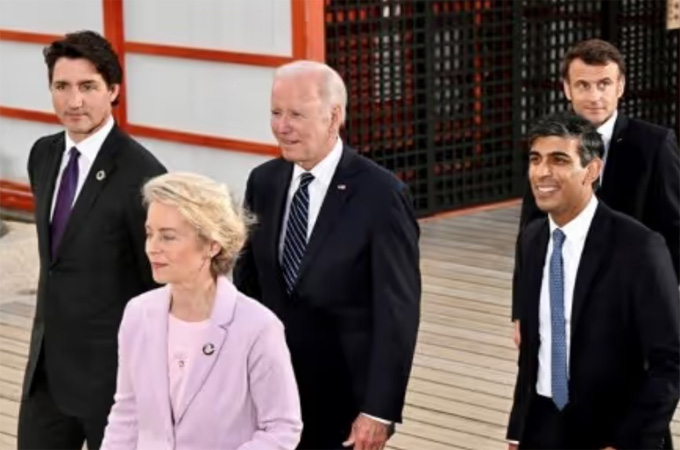 Group of Seven rich nations (G7) must take the lead in phasing out fossil fuels, the leaders of seven countries including The Netherlands and Chile have said, attempting to build momentum for a global deal this year to gradually quit oil, coal and gas.
Countries including the 27-member European Union are hoping all nations will agree at this year's UN climate talks to phase out the fossil fuel consumption causing climate change - reviving an idea that gathered some support at last year's climate talks, but was blocked by oil- and gas-rich countries.
A meeting of G7 leaders in Hiroshima, Japan, which began on Friday, is seen as a test of the appetite among the world's advanced economies to do this.
In a letter to G7 leaders, dated May 18 and seen by Reuters, presidents and prime ministers from seven nations urged them to lead the push for a fossil fuel phaseout deal.
"We must bring the fossil fuel era to an end and phase out fossil fuels. We call on you to take the lead and work with us to agree this at COP28," the letter said, referring to this year's COP28 climate summit, which begins on November 30 in Dubai.
It was also signed by the leaders of New Zealand, plus the Marshall Islands, Palau, Saint Lucia and Vanuatu - four small island states whose vulnerability to climate change has seen them hold outsized political influence in past UN talks.
The countries said the G7 should also support efforts to develop new global targets for renewable energy and energy efficiency.
G7 countries' climate ministers agreed last month - for the first time - to accelerate "the phase-out of unabated fossil fuels". It is not clear if their leaders will follow suit.
Other countries have signalled a will to allow the continued use of fossil fuels.
The UAE incoming COP28 president, Sultan al-Jaber, this month urged countries to focus on "phasing out fossil fuel emissions". That could allow countries to keep using fossil fuels, while using technologies to capture the CO2 emissions that result from burning them. -Reuters