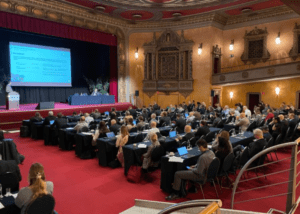 news item image
The 2023 International Biogas & Biomass Congress & Expos enjoyed a successful first day on 16 May in Brussels.
Packed with high-level speakers delivering presentations covering the latest industry developments, the event also provided ample networking opportunities.
Charlotte Morton, chief executive of the World Biogas Association, chaired the morning session of the Biogas conference. Attendees then heard from Peter Zeniewski, lead gas analyst at the International Energy Agency, who gave an outlook for biogases in the global energy transition.
Conference then heard from Jen Lehman, MD of AMS Green Markets, who spoke about the impact of RED II on the Global Biomethane market, followed by Tom Cassidy at Standard Chartered. After a networking break, Lena Friedmann of CM Fluids provided insights into the German Biogas market.
Following a networking lunch, afternoon highlights included Christian Cuenot, VP biomethane & bio LNG at VARO Energy giving a talk on industrial-scale biomethane production to supply bio LNG. Halon Nokhart, strategy and improvement manager at Antec Biogas, identified ways of reaching global biomethane goals in a fast and economically viable way.
Meanwhile, Mark Sommerfeld, head of power and flexibility, REA, chaired the Biomass conference. After introductions, Jens Price Wolf, GM Europe and VP commercial at Enviva, looked at biomass in lignofuels and SAF.
Then, Ennio Prizzi, policy officer at Bioenergy Europe, looked at the role of bioenergy within the European Green Deal. László Máthé, standard manager at SBP explained SBP's revised standards, and Anup Mishra, consultant at Indufor, explored waste wood as feedstock for energy and other uses in Europe.
Amongst others, afternoon sessions saw Anna-Mark Satosalmi of Gasum give her take on the Nordics market, and Richard Mertens, advisor at Ecoprog, give an overview of the global pellet market.