Irish energy company ESB and Shannon Foynes Port, the company with statutory jurisdiction over all marine activities on the Shannon Estuary, have entered into a collaboration to develop the region into a centre for the deployment of floating offshore wind projects in both Irish and international waters.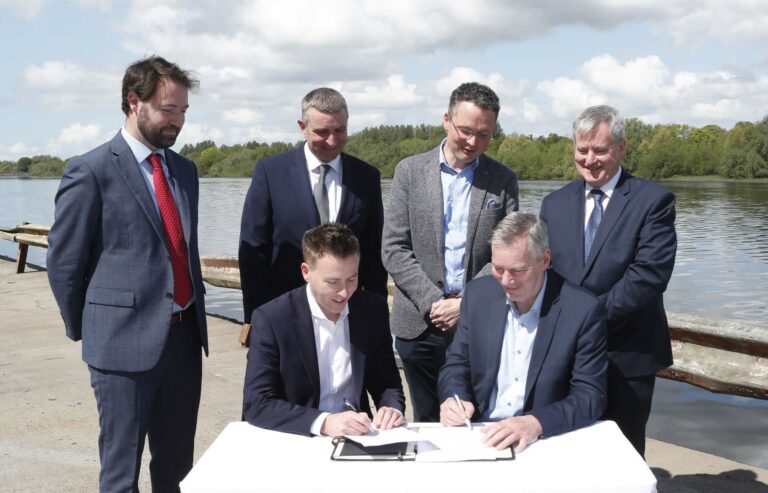 The signing of the Memorandum of Understanding (MOU) between ESB and Shannon Foynes Port at Limericks Docks; Photo courtesy of ESB
Back in 2021, ESB and its then-partner Equinor announced the development of the 1.4 GW Moneypoint floating wind farm in Ireland, with a broader plan under its Green Atlantic @ Moneypoint project to transform the Moneypoint power station in County Clare into a green energy hub and to support wider plans of Shannon Foynes Port to help make the Shannon Estuary a focal point for the offshore wind industry in Europe.
Under a Memorandum of Understanding (MOU) the two parties now signed, ESB and Shannon Foynes Port have committed to working closely together to maximise the potential of the Shannon Estuary, which features a mix of deepwater, development lands, low-lying shoreline, and proximity to wind resources off Ireland's west coast.
According to ESB, the collaboration under the MOU will ensure that its Green Atlantic @ Moneypoint project and the port authority's projects planned as part of the masterplan, which was published in 2022, will be developed in a coordinated manner in the national interest with a common goal of maximising the opportunity for the estuary and wider Mid-West region, ESB said.
ESB said it was currently undertaking a multi-billion-euro redevelopment project at its Moneypoint site to include significant amounts of offshore wind coupled with the production of hydrogen and other green derivatives.
As an enabler to ESB's Green Atlantic @ Moneypoint project, an offshore wind construction hub will be developed which will facilitate the fabrication and assembly of floating offshore wind platforms.
Shannon Foynes Port last year published its Vision 2041 masterplan for the wider estuary, which sets out a strategy to transform the estuary into one of the world's leading green energy hubs.
The Vision 2041 document identified three key growth areas for the estuary, namely delivering floating offshore wind at an international scale, green industrial development transition, and expanded, diversified and more sustainable logistics services, ESB pointed out.
The Irish offshore wind developer said the MOU was in line with the masterplan's identification of the development of four core facilities at the estuary to support the delivery of floating offshore wind at scale. These included substructure assembly at Moneypoint, as well as turbine integration and pre-commissioning at Foynes port, wet storage at various locations within the estuary and an Operations & Maintenance (O&M) base, also at Foynes.
Shannon Foynes Port's plans centre on the development of a new deepwater port at Foynes Island, which will be linked directly to the national transport network via a direct restored rail and new road link.
"We are delighted to partner with Shannon Foynes Port to help deliver on our ambitious plans for floating offshore wind. As ESB transforms its generation portfolio with projects such as Green Atlantic @ Moneypoint, this collaboration builds on our commitment to delivering renewables projects in the Mid-West region. It is an important step in ESB's efforts to deploy the latest technologies and infrastructure as we play a crucial role in Ireland's transition to net zero", said Paul Lennon, Head of Offshore Wind and Hydrogen at ESB.
Shannon Foynes Port CEO, Pat Keating, said: "As the maritime authority for the Estuary, we are focused on ensuring the unrivalled opportunity arising from one of the world's best wind regimes and proximity of our deep waters is maximized for the national interest. The ESB through its Green Atlantic @ Moneypoint project is a key constituent in the transformation of the wider estuary and we look forward to doing whatever we can to ensure this essential project is realized".
The two parties added that their MOU, although non-exclusive in nature, supports the Irish government's Climate Action Plan and sets out both organisations' intention to work together for the benefit of achieving Ireland's offshore renewable energy targets.