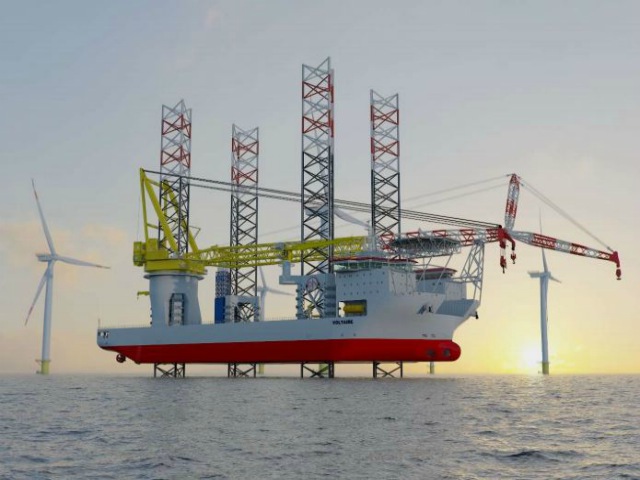 Dogger Bank. Image source, Jan De Nul
From onshore to offshore to floating: five wind energy projects underpinning the UK's drive for sustainability
The wind farm is a familiar bone of contention. To some, the tall, turbined spires provide a glimpse of a green, low carbon future. For for others, they represent an inefficient, nature-threatening eyesore.
This split was embodied earlier in the year when Cabinet members of the UK government clashed over the relaxation of wind farm planning laws in the UK. This was an attempt to reduce reliance on Russia for energy supplies in light of their war in Ukraine.
With now more than 11,000 onshore and offshore turbines in the UK and as the country remains committed to a 68% reduction in emissions by 2030 in line with COP26, it's clear that windpower isn't going anywhere.
With some insights from Northern Powergrid, we look at some of the country's leading windfarm developments and why the answer to the UK's sustainability question is blowing in the wind.
Why the UK is a global wind power
From its days as a seafaring super-nation, the UK has always harnessed the power of the elements.
As statistically Europe's gustiest country, it's no surprise that the country has a higher offshore wind capacity than any other nation, with almost 11GW generated of the world's current 35GW capacity.
According to BloombergNEF, the world's cumulative capacity can surpass the 200GW mark. The UK, as an island nation in the consistently windy zone of Northwest Europe, can retain its top spot. The country is currently home to seven of the world's 10 biggest wind farm sites.
As the world continues to move to its green-powered future, we outline five of the UK's key wind projects.
Hornsea Wind Farm
Located 120km off England's North Yorkshire coast, the Hornsea 1 farm is currently the world's largest operational wind project. It encompasses 174 mw wind turbines and spans an area of over 407 square km, powering over one million homes with green electricity.
The site is maintained inland in an east coast hub in Grimsby, which supports a workforce of more than 370 people.
The success of the project has led to further investment in the Humberside area with the commissioning of Hornsea 2 in 2020. Two further Hornsea projects are expected as the UK ramps up plans to go carbon neutral.
Shetland Wind Farm
Typically, offshore wind is more powerful and consistent than onshore wind yet that doesn't mean onshore can't play its part in the UK's net zero future.
One of the industry's biggest players, SSE Renewables, intends to build the UK's biggest onshore wind farm on the Shetland isles with plans to open the £580million development by 2025.
The proposed plant would harness 103 turbines and would replace Shetland's current power station, helping to decarbonise Scotland's electricity.
Dogger Bank Wind Farm
Since 2012, electricity costs from offshore wind have fallen by 66%, meaning building offshore wind farms are not only more environmentally friendly, but a cheaper alternative to fossil fuel power plants.
One such development is the Dogger Bank complex which is a group of offshore wind farms off the east coast of Yorkshire. The three sites A, B and C will collectively become the world's largest wind farm, with an installed capacity of up to 3.6GW. Dogger Bank A, its first phase, plans to become operational in 2023.
Walney Wind Farm
The UK boasts some of the best offshore wind speeds in Europe coupled with large stretches of shallow seabed which make it easy to install wind turbines.
Opened in 2018, the Walney extension is based 19km off the Walney Island coast in Cumbria. The project is installed with 87 turbines and its generator connection provides power to roughly 600,000 British homes following investment from Orsted and Danish pension funds PFA and PKA.
Floating Offshore Wind Farm Erebus
Studies show that as much as 50GW of green electricity could be available from the Celtic Sea Waters of the UK and Ireland.
The Blue Gem Wind group are making inroads into this market with the first floating wind project in the area. A floating wind turbine is an offshore construction mounted on a floating structure that allows for electricity generation in greater water depths where foundations fixed to seabeds are simply not feasible.
Reportedly, over 80% of the world's global wind resources are in water deeper than 60 metres, which makes this a key development for the future.
In summary, the UK has capitalised on its natural weather conditions to become a world-leading nation in windpower and is cementing its place with a number of new developments.
With this infrastructure in place, the UK can stay at the vanguard of wind technology and on track to hit its emission reduction targets. Offshore wind can form the backbone of the country's modern clean, green energy system.