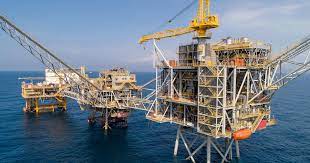 Houston-based energy company Marathon Oil Corporation, through its affiliated company Marathon E.G. Holding Limited, has inked a Heads of Agreement (HOA) with the Republic of Equatorial Guinea (E.G.) and Chevron's Noble Energy E.G. Ltd, to move forward with the next phases in the development of the Equatorial Guinea Regional Gas Mega Hub (GMH).
Marathon Oil disclosed on Thursday, 20 March 2023, that it would be working on further developing the GMH's Phase II and III, as Phase I was achieved with the tie-back of the Alen field, located in the Douala Basin offshore Equatorial Guinea, to Punta Europa onshore facilities, which delivered first gas in February 2021.
The company explains that gas from the Alen field is processed under the combination of a tolling and profit-sharing arrangement through Alba Plant LLC's onshore liquified petroleum gas (LPG) plant and Equatorial Guinea LNG Holdings Ltd's LNG facility.
According to Marathon Oil, the announced HOA builds on the success of Phase I, aligning all parties on necessary commercial principles to advance Phases II and III of the GMH. Phase II involves processing Alba Unit gas from 1 January 2024 under new contractual terms following the legacy Henry Hub-linked Alba sales and purchase agreement expiration at the end of this year.
The company expects Phase II to materially increase exposure to global LNG pricing, improving the firm's earnings and cash flow significantly while Phase III of the GMH is anticipated to facilitate gas processing from the Aseng field at Punta Europa facilities.
Marathon Oil holds a 63 per cent operated working interest under a production sharing contract in the Alba field and an 80 per cent operated working interest in Block D, both of which are offshore Equatorial Guinea. On the other hand, the Aseng oil and gas field (previously known as Benita) just like the Alen field is operated by Chevron's affiliate in Equatorial Guinea.
Lee Tillman, Marathon Oil Chairman, President, and CEO, remarked: "We are excited about this critical milestone in the ongoing development of Punta Europa as a world-class hub for the monetization of local and regional natural gas.
"This announcement builds on our successful partnership of more than 20 years with the E.G. government, further leveraging and extending the life of Equatorial Guinea's world-class gas monetization infrastructure, including the critical Equatorial Guinea LNG facility, into the next decade."
Moreover, Marathon Oil outlines that a recently established bilateral treaty on cross-border oil and gas development between Equatorial Guinea and Cameroon provides other opportunities to further expand the GMH through fast-track monetization of cross-border wet gas fields.
The country's government, represented by the Ministry of Mines & Hydrocarbons, has taken an active role in leading the successful implementation of this GMH expansion and is committed to ensuring subsequent activities and negotiations progress in a timely manner, says the company.
"Beyond the commercial benefits, the expanded development also secures future fuel gas volumes for Equatorial Guinea's power generation needs, provides longer-term employment opportunities for Equatoguineans, and will positively impact the local communities' economy," concluded Marathon Oil.