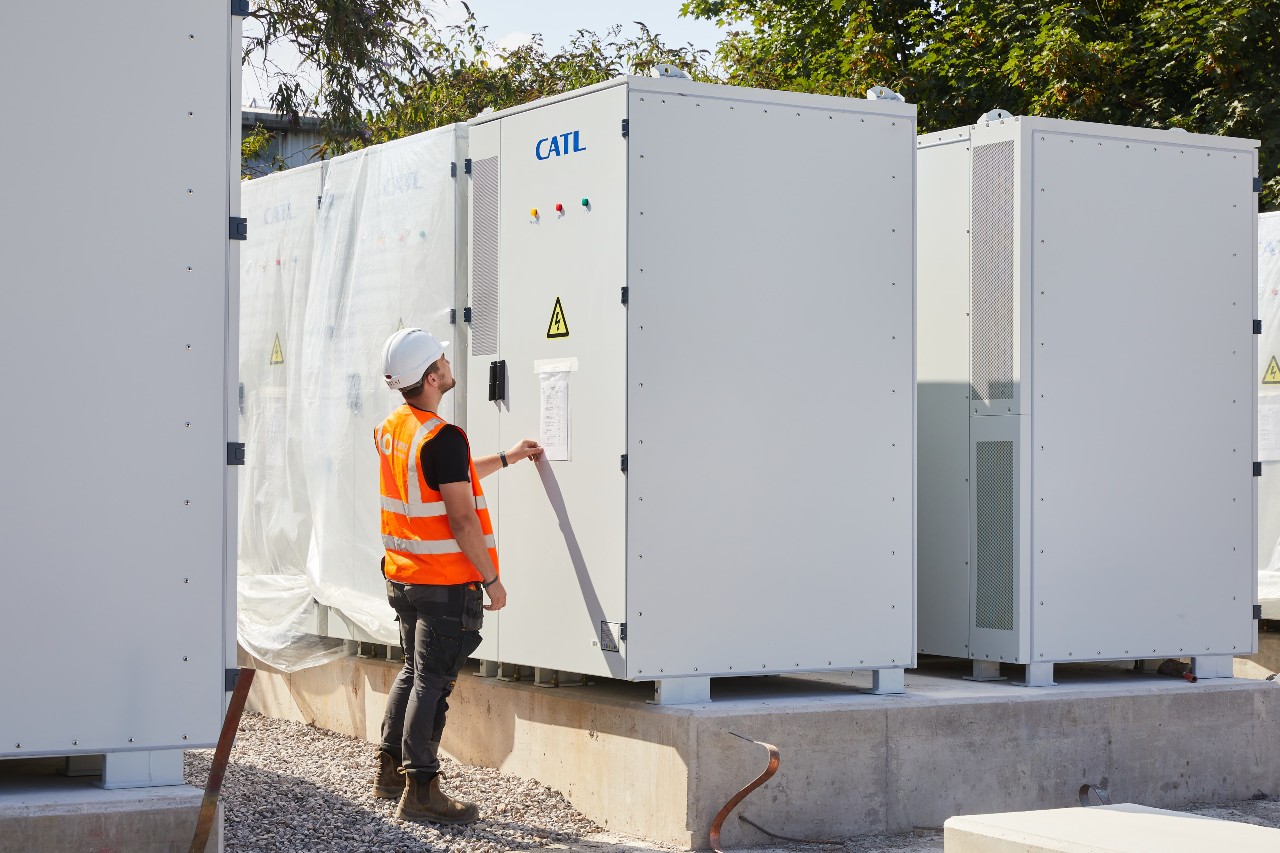 The 20MW/30MWh Feeder Road battery energy storage project in Bristol. Image: Jim Johnston Photography (Thrive Renewables).
Bristol-based Thrive Renewables is offering its local energy co-operative up to 20% investment in its new 20MW/30MWh Feeder Road battery energy storage project.
This will allow local residents to own a share of the asset through the Bristol Energy Co-operative, in what the company has said is the first time the owner of a commercial standalone battery storage project has offered the local community the opportunity to co-own it.
"Thrive was set up nearly 30 years ago to power the UK's clean energy transition by connecting people to clean energy – offering co-investment to community groups helps us deliver that. To ensure a just transition, we need the benefits of renewables to be local, giving everyone the opportunity to access cleaner energy, cheaper bills and new green jobs," said Matthew Clayton, managing director of Thrive Renewables.
"Battery storage is a critical technology for the UK to reach net zero, storing electricity when renewable power is abundant and making it available during peak times when consumption is at its highest. We're thrilled to be working with the local community on this project, which not only supports the UK's net zero goals, but Bristol's ambition to become a carbon neutral city by 2030."
Thrive acquired the Feeder Road battery in Bristol in March 2021, and is currently being commissioned.
The company has invested £29 million in clean energy infrastructure in Bristol, including in the 8.2MW Avonmouth wind farm and providing a £4 million loan to Community Energy in 2022 to develop a community owned onshore wind turbine.
Bristol has 133MW of clean electricity projects in operation or construction including storage projects, with Thrive having funded 37% of these (32.4MW).
The Feeder Road battery energy storage project has had community involved from its inception. The site was originally set to become a diesel-fuelled STOR plant in 2020, but local residents from St Phillip's Marsh formed Residents Against Dirty Energy (RADE) to fight against this, and the planning application was ultimately rejected.
"Community energy gives people agency to take practical action on climate change in their local community," said Andy O'Brien, co-director, Bristol Energy Cooperative.
"This project is a perfect example of how the community coming together can bring about real change. People power fought off a highly-polluting diesel scheme and replaced it with the storage technology we need to help us go net zero."
Other companies involved in the development of the site include developer Aura Power, renewables consultancy Everoze and EPC G2 Energy, and Trina Storage supplied the physical battery system.
With construction of Feeder Road complete, Thrive is undertaking a landscape plan to help protect and enhance the sites biodiversity, which will see it invest an additional approximately £100,000 in upgrades.
Beyond its work in Bristol, Thrive has been more broadly expanding its clean energy offering, including beginning construction of a 5MW/7.45MWh battery storage project near Milton Keynes, providing funding to solar-powered rail company Riding Sunbeams and developing a new financing framework for commercial solar arrays with Olympus Power, which provides funding for the solar developer's rollout that has a target of up to £75 million of commercial solar installations.