project announced last year will be fully operational by 2026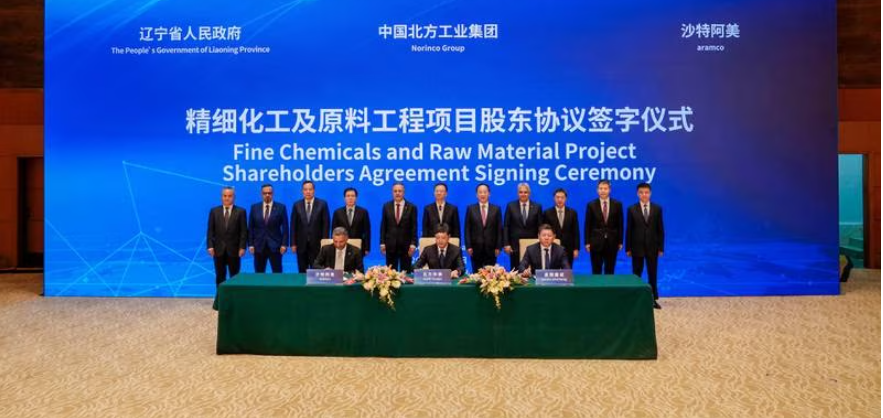 Saudi Aramco, Norinco Group and Panjin Xincheng Industrial Group will start construction of a refinery and petrochemical plant in north-east China. Photo: Aramco
Saudi Aramco, the world's largest oil exporting company, said on Sunday a venture in China will see construction begin on a major integrated refinery and petrochemical complex in the second quarter of this year.
The project was announced in March last year.
The Huajin Aramco Petrochemical Company is developing the complex that can process 300,000 barrels of oil per day and a petrochemical plant capable of producing 1.65 million tonnes of ethylene and 2 million tonnes of paraxylene a year, Aramco said.
The joint venture includes Aramco, China North Industries Group Corp (Norinco) and Panjin Xincheng Industrial Group.
Aramco will supply up to 210,000 barrels per day of crude oil to the plant, which is being built in China's Liaoning province. It is expected to be fully operational by 2026.
"This important project will support China's growing demand across fuel and chemical products," said Mohammed Al Qahtani, Aramco's executive vice president of downstream.
"It also represents a major milestone in our ongoing downstream expansion strategy in China and the wider region, which is an increasingly significant driver of global petrochemical demand."
China is expected to import record volumes of crude this year as it gradually reopens its economy, ending nearly three years of strict Covid regulations.
The International Monetary Fund expects China's gross domestic product to grow by 5.2 per cent this year, two percentage points higher than in 2022. Growth rebounded to 8.4 per cent in 2021, following a deceleration after the pandemic in 2020.
In December, Aramco and China Petroleum and Chemical Corporation (Sinopec) signed an initial agreement to build a refinery and a petrochemical plant in China.
The 320,000 bpd refinery and 1.5 million tonnes per year petrochemical complex will be in operation by the end of 2025.
Aramco also signed a preliminary agreement with China's Shandong Energy Group to supply crude oil and chemical products.
The scope of the agreement extends to co-operation across technology related to hydrogen, renewables and carbon capture and storage.
"This large-scale refinery and petrochemical complex is a key project of Norinco Group to implement and realise the joint development of the high-quality Belt and Road initiative, promote industrial restructuring and enhance the oil and petrochemical sector," said Zou Wenchao, Norinco Group's deputy general manager.
"It will play an important role in deepening economic and trade co-operation between China and Saudi Arabia, and achieving common development and prosperity."