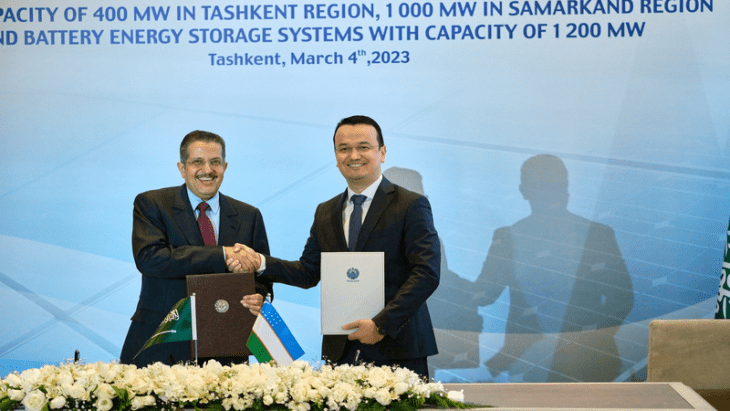 They will add 1.4GW of renewable energy and 1.5GWh of battery storage in Uzbekistan.
ACWA Power signed three power purchase agreements and investment agreements with Uzbekistan's Joint-Stock Company (JSC) National Electricity Grid and the Ministry of Investment, Industry and Trade for the development of solar and battery storage in the central Asian country.
In a statement, ACWA Power said the agreements entailed the building of 1.4 gigawatts (GW) of solar capacity across three projects in Tashkent and Samarkand, and 1.5GW-hours of battery storage in three projects in Bukhara and Samarkand.
The projects in Tashkent include a 400-megawatt (MW) solar plant and 500 MW-hour of battery storage. Two 500MW solar projects and a 500MWh battery will be built in Samarkand, whilst another 500MWh of the battery will be developed in Bukhara which will include overhead transmission lines to dispatch power to the grid.
Integrating batteries into the grid will make Uzbekistan the market with the largest battery energy storage facilities in the region.
ACWA Power said the projects will contribute to $2.5b of new investments as part of the $10b target investments under a separate Investment Cooperation signed in August 2022.
The Investment Agreements were between the ministry and ACWA Power, whilst the power purchase deals were signed by the National Electric Grid of Uzbekistan JSC (NEGU) and ACWA Power.