Slovenia's project to build a dry storage facility for used fuel is set to be completed later this year with the transfer of the first 592 used fuel elements.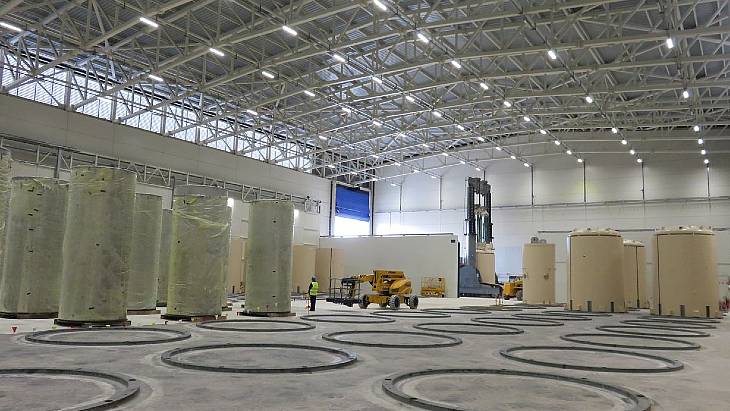 The new facility is part of the plant's 20-year operating extension (Image: NEK)
The dry storage building is 50 metres by 70 meters by 20 metres, with a reinforced concrete base of 1.75m and, Krško nuclear power plant (NEK) explained, "including the perimeter walls, provides protection against flooding and enables the anchoring of storage containers" with equipment installed to allow monitoring by the International Atomic Energy Agency.
"The introduction of dry storage of spent fuel is also a transition from active to passive solutions, as no additional device, system or energy source is needed to provide cooling. It is considered the most appropriate and widespread temporary storage of spent fuel in the world," NEK said.
Each container will hold 37 used fuel cells, with a thick concrete shell providing full physical and radiological protection against extreme weather, earthquakes or an aircraft crashing, NEK said, adding that the containers have been designed to "enable the transport of the fuel elements in the future as part of a permanent solution".
"In the first campaign, we will move 16 containers with 592 spent fuel cells to dry storage by autumn ... with the introduction of dry storage, we will fulfil all the conditions and implement the decisions of the administrative bodies to extend the operation" of the nuclear power plant.
Krško is a Westinghouse pressurised water reactor located on the Sava river. It is unusual in being jointly owned by two countries: Slovenia, where it is located, and Croatia, both of which were parts of the former Yugoslavia when Krško came online in 1981. It supplies as much as 40% of Slovenia's electricity.
Slovenia's Ministry of the Environment in January approved Krško's operations for a further 20 years, following the completion of an environmental impact assessment, a process which included input from neighbouring countries Croatia, Austria, Italy and Hungary, plus Germany.