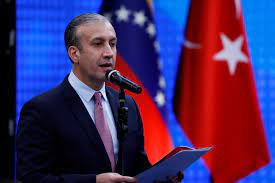 Venezuela's oil minister Tareck El Aissami offered his resignation after three years in the post in the wake of a corruption investigation into state-owned oil company PdV.
"In virtue of the investigations that have started into serious acts of corruption in PdV, I have made the decision to present my resignation as oil minister, with the purpose of supporting, accompanying and fully backing this process," El Aissami posted in a tweet on his official account.
El Aissami is also a vice president of Venezuela over the economy. The government has not named a replacement or confirmed if it has accepted his resignation.
Venezuela's investigation into corruption and misuse of funds, including in its oil industry, led to arrests of public officials over the weekend in the wake of claims that the country is missing $3bn-$5bn in cryptocurrency money. Venezuelan president Nicolas Maduro railed against corruption and the need for honesty in a rambling address late on 13 March, but did not refer to the cryptocurrency agency or specific investigations.
El Aissami offered to support Maduro's united socialist party of Venezuela (PSUV) with his support in its crusade against "antivalues" that "we are obligated to combat, even with our lives."