Buchholz, Lower Saxony, Germany (source: Albert Koch / flickr, Creative Commons)
Eavor GmbH has been granted a geothermal exploration permit for the Buchholz permit field in the Hanover region of Lower Saxony, Germany.
The State Office for Mining, Energy and Geology (LBEG) of Lower Saxony in Germany has assigned Eavor GmbH the geothermal exploration permit for the Buchholz permit field. The permit to explore for geothermal energy for commercial purposes is initially limited to three years until March 14, 2026.
The Buchholz permit field is almost 22.5 square kilometers in size and touches on Bothfeld, Groß Buchholz, Lahe, Misburg and Isernhagen in the north-east of Hanover. The almost square area completely encompasses the Hanover-Buchholz permit field of the Federal Institute for Geosciences and Natural Resources (BGR), which is in the middle of the permit that has now been allocated.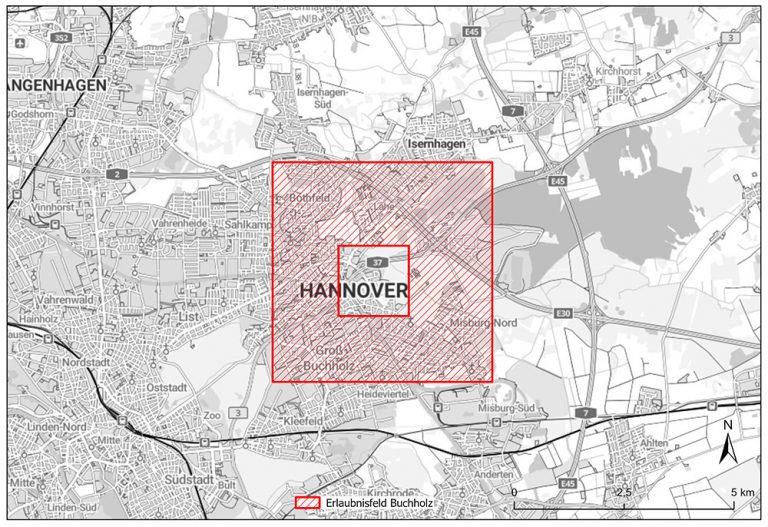 Location and extent of the Buchholz permit field in Lower Saxony, Germany (source: LBEG)
It also borders on the NDEWG's Burgwedel license area to the north and east, and on the Kleefeld I license area to the south and west, which has already been allocated to Eavor GmbH.
Eavor GmbH applied for a permit to explore for geothermal energy at the end of November last year. After the LBEG examined the application and gave the Hanover region affected by the area the opportunity to comment and informed the city of Hanover and the municipality of Isernhagen, it has now granted the permit. This only gives Eavor GmbH the basic right to carry out the search. Actual exploration activities may only take place after approval of operating plans under mining law, for which, among other things, a separate participation procedure is necessary.
Eavor GmbH sees opportunities to implement deep geothermal projects for heat generation for commercial use.
LBEG has been very active in granting geothermal exploration permits in Lower Saxony in the past months. In late 2022, permits were granted for the city of Soltau and the district town of Uelzen. More recently, the Ministry of Environment, Energy, and Climate Protection of Lower Saxony announced state funding for geothermal pilot projects in the towns of Munster and Bad Bevensen.