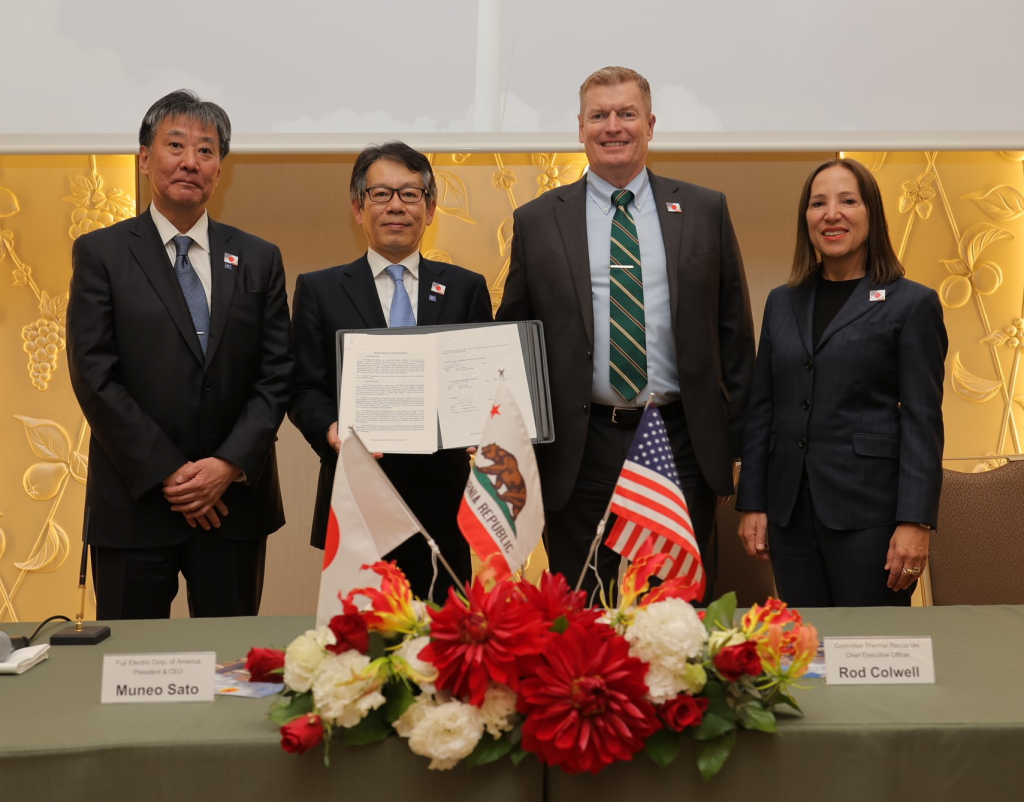 MOU signing between Controlled Thermal Resources and Fuji Electric (source: CTR)
Controlled Thermal Resources (CTR) and Fuji Electric Corp. of America (FEA) have signed a Memorandum of Understanding today to complete multiple Equipment, Procurement, and Construction (EPC) contracts for the delivery of geothermal power facilities at CTR's Hell's Kitchen Lithium and Power Project located in Imperial County, California.
The EPC contracts totaling USD 1.4 billion comprise completing a 55M-W Stage 1 power facility and delivering five additional 55MW power facilities or facility configurations totaling 330MW over a five-year programmatic construction schedule.
Utilizing the geothermal brine and a portion of renewable power generated from these facilities, CTR expects to produce an estimated 150,000 metric tons of lithium hydroxide annually to support global demand for electric vehicles and energy storage systems.
"Fuji Electric's experience in delivering essential equipment and construction services for geothermal operations is without peer. We are thrilled to be strengthening our commitment today to reach agreement on an additional five geothermal power facilities at Hell's Kitchen," CTR's Chief Executive Officer Rod Colwell said.
"Today marks the beginning of a clean energy evolution. Building these power facilities will support sustainable lithium production, satisfy our client's increasing lithium requirements, and encourage the battery supply chain industries to join us in California."
Since its first geothermal turbine delivery in Japan in 1960, Fuji Electric has expanded its reach to five continents and established itself as the world's leading manufacturer of geothermal power generation equipment. The Hell's Kitchen projects will utilize steam turbine generators and transformers manufactured by Fuji Electric. "Fuji Electric has provided value and innovation in the geothermal market for many decades. These projects with CTR will take Fuji into an exciting new phase of renewable power generation in California," stated Muneo Sato, President, and CEO of Fuji Electric Corp. of America.
A signing ceremony was held in Tokyo with guests, California Lieutenant Governor Eleni Kounalakis, California Energy Commission Chair David Hochschild, and Senior Advisor to Governor Newsom and GO-Biz Director Dee Dee Myers, bearing witness to the companies' plans.
"Today's announcement further solidifies California's position as a global climate and economic leader and is a huge step towards a clean energy future and global decarbonization," said Lieutenant Governor Eleni Kounalakis. "CTR's power facilities and the resulting lithium production will help meet consumer demand for EV batteries while reducing demand for gasoline and resulting carbon emissions powering a new era of clean energy while creating good-paying green jobs in California."
"150,000 metric tons of battery-grade lithium can be used to build around 2.5 million EV batteries for standard-sized passenger cars," Mr. Colwell commented. "This could save up to 1 billion gallons of gasoline and reduce vehicle tailpipe emissions by 11.5 million metric tons yearly while decarbonizing lithium production by another 2 million metric tons. We are proud to lead the way with the world's largest and cleanest lithium and power development."
CTR anticipates the completion of its Stage 1 geothermal operation and the commencement of 25,000 metric tonnes of lithium hydroxide production in late 2024. At total production capacity, CTR expects to deliver 1,100MW of clean, renewable power and over 300,000 metric tons of lithium products annually.
CTR had previously announced a project milestone with the efficient and real-time recovery of lithium from the Salton Sea geothermal brine resource.