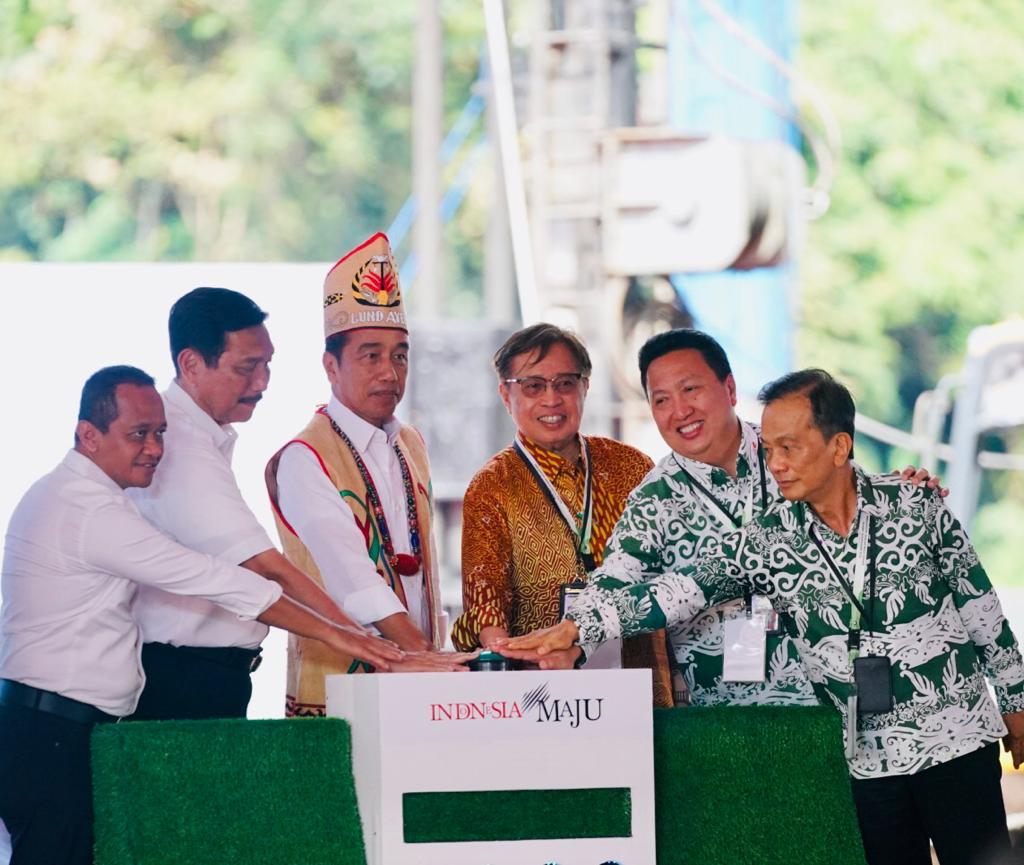 (photo courtesy Sarawak Energy)
Joint venture developers of the 1,375 MW Mentarang Induk Hydropower Project (MIHEP) in North Kalimantan, Indonesia, celebrated the project's groundbreaking at the site in early March.
MIHEP is being developed by PT Kayan Hydropower Nusantara (KHN), a joint venture between Malaysia's Sarawak Energy and Indonesian companies PT Adaro Energy Indonesia and PT Kayan Patria Pratama (KPP) Group through their respective subsidiaries. The US$ 2.6 billion project is part of KHN's efforts to provide affordable, reliable and sustainable renewable energy to support Indonesia's Green Industrial Park in North Kalimantan.
The construction phase of MIHEP will be carried out in the first quarter of 2024, targeting first power by the end of 2029, according to a release. When completed, Mentarang Induk will feature the second tallest concrete-faced rockfill dam (CFRD) dam in the world with a height of 235 m and length of 815 m. At peak, the project opens employment opportunities for more than 5,000 workers, including knowledge workers and expertise from Sarawak, according to a release. An Indonesian National Strategic Project, MIHEP is anticipated to deliver economic and social benefits for local communities, with planned training programs to increase the community's capacity to ensure that a qualified workforce will be available in the context of hydropower development.
Sarawak Energy Berhad is an energy development company and a vertically integrated power utility. The company's energy predominantly comes from Sarawak's rich hydropower resources. The project is Sarawak Energy's first international hydropower project, after 40 years of experience in Sarawak in hydropower development.
The Premier of Sarawak, Datuk Patinggi Tan Sri Abang Haji Abdul Rahman Zohari, said Sarawak's involvement in the development of Indonesia's largest hydropower project strengthens its regional standing as it works toward "becoming a leading player in the renewable energy sector in ASEAN."
"Sarawak Energy is honored to be given the opportunity to work with our esteemed partners in Indonesia in the construction of the Mentarang Induk hydropower project to meet the demand for green energy in North Kalimantan," said Sarawak Energy Group Chief Executive Officer Datu Haji Sharbini. "We believe that our 40 years of experience and learnings from our hydropower development in Sarawak will contribute greatly towards making this project a success." As a Sustainability Partner and board member of the International Hydropower Association, Sarawak Energy is "committed to embed sustainable practices in the development and operation of our projects, including MIHEP, ensuring technical, economic, environmental, social and governance impacts, risks and opportunities are well managed," he said.
In his speech at the event, Indonesian President Joko Widodo said Malaysia's participation in the Mentarang Induk hydropower project is a symbol of the close cooperation between the two countries. The president also thanked the local indigenous people consisting mainly of the Punan and Lun Dayeh communities for their support of the project, which he said would upgrade livelihoods and contribute to the people's well-being.
Sarawak Energy's first hydropower development project began in the 1980s with the 108 MW Batang Ai hydroelectric project, followed by the 944 MW Murum project commissioned in 2014. In 2017, Sarawak acquired the 2,400 MW hydroelectric project from Malaysia's Ministry of Finance.