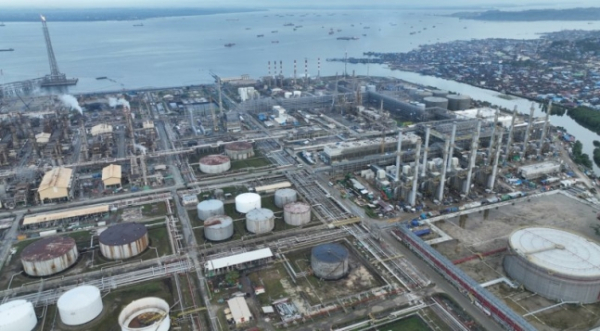 An aerial photo of Balikpapan Oil Refinery built by Hyundai Engineering in East Kalimantan on Borneo Island, Indonesia
The Balikpapan Oil Refinery, built by Hyundai Engineering in East Kalimantan on Borneo Island in Indonesia, reached a 68 percent operation rate in February 2023, three years after ground was broken in February 2019, according to industry sources on March 7. It is expected to cross 70 percent sooner rather than later. It is a project to upgrade existing oil refining facilities and build facilities to meet Euro V standards.
The project will cost 6 trillion won in total. Of the amount, Hyundai Engineering's stake is approximately 4.2 trillion won (US$3.2 billion). It is the single largest project in the history of Hyundai Engineering. It will employ about 20,000 people per year.
After completion, production will expand from the existing crude oil refining capacity of 260,000 barrels per day (BPD) to 360,000 BPD. It can also produce environmentally friendly fuel that satisfies Euro 5 standards.
Hyundai Engineering won the project in December 2018 from Indonesian state-run oil company Pertamina. Pertamina mapped out a refinery development master plan (RDMP) to invest US$30 billion (38.955 trillion won) to expand its crude oil refining capacity from the current 1 million BPD to 2 million BPD by 2026. Under the plan, a new project is underway to build modernize refining facilities and build new facilities.
The Balikpapan Oil Refinery Project is the first project carried out according to the Indonesian oil refinery development master plan. In other words, Hyundai Engineering occupied an advantageous position in competition to win orders for large-scale oil refinery projects to be promoted by Pertamina.
Based on a strong relationship of trust with the client, Hyundai Engineering has also achieved successive orders for projects related to the Balikpapan Oil Refinery. In February 2020, the Korean engineering giant won an additional project to install additional sulfur recovery units and hydrogen manufacturing units at Balikpapan Oil Refinery. It will cost 473 billion won in total. In September of the same year, it earned Pertamina's strong trust again by winning a 223-billion-won hydrocracker unit expansion project.