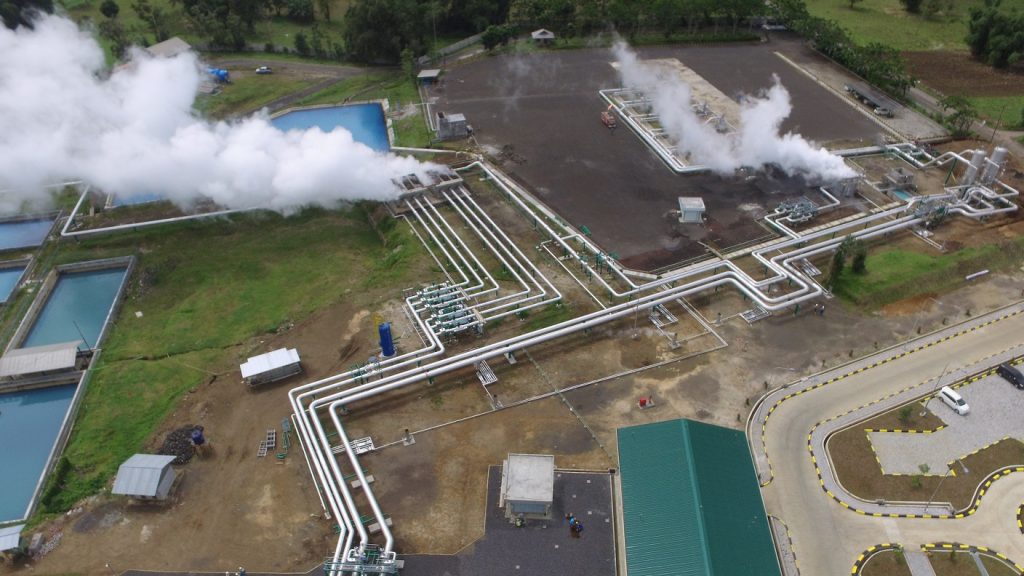 Steamfield at Lahendong geothermal plant, Indonesia (source: Sumitomo Corp.)
Indonesia's state-owned geothermal developer PT Pertamina Geothermal Energy (PGE) will be working with Japanese electricity utility holding company Tokyo Electric Power Company Holdings, Inc. (TEPCO) for a joint study that aims to develop optimal operational technology for cost-effective green hydrogen production and transportation.
The project will combine PGE's geothermal power plant technology and TEPCO's hydrogen production technology. It is also supported by the New Energy and Industrial Technology Development Organization (NEDO), the national research and development agency of Japan.
As part of this initiative, a delegation from Japan paid a visit to the PGE's Lahendong geothermal site. The delegation included the Japanese Ambassador to Indonesia, Kanasugi Kenji, and officials from NEDO and TEPCO. On this occassion, the Japanese Ambassador stated that Japan and Indonesia have agreed to realize the Asia Zero Emission Community (AZEC) concept. This had been agreed to by the heads of state of Japan and Indonesia during bilateral meetings at the G20 Summit in Bali.
Dannif Danusaputro, CEO of PT Pertamina Power Indonesia (Pertamina NRE), said that the company is developing a pilot project for green hydrogen in the PGE geothermal area. This project has a target production rate of 100 kg/day.
"PGE has a vision of becoming a world-class green energy company with the largest geothermal capacity in the world, supported by three strategic pillars – optimizing existing areas of operation, expanding geothermal value chains, and developing new geothermal areas," said PGE Main Director, Ahmad Yuniarto.
We had previously reported on a potential partnership being explored by PT Pertamina with Chevron for the development of downstream products from potential geothermal projects in Sumatra, Indonesia. The products targeted under this initiative included green hydrogen and green ammonia.