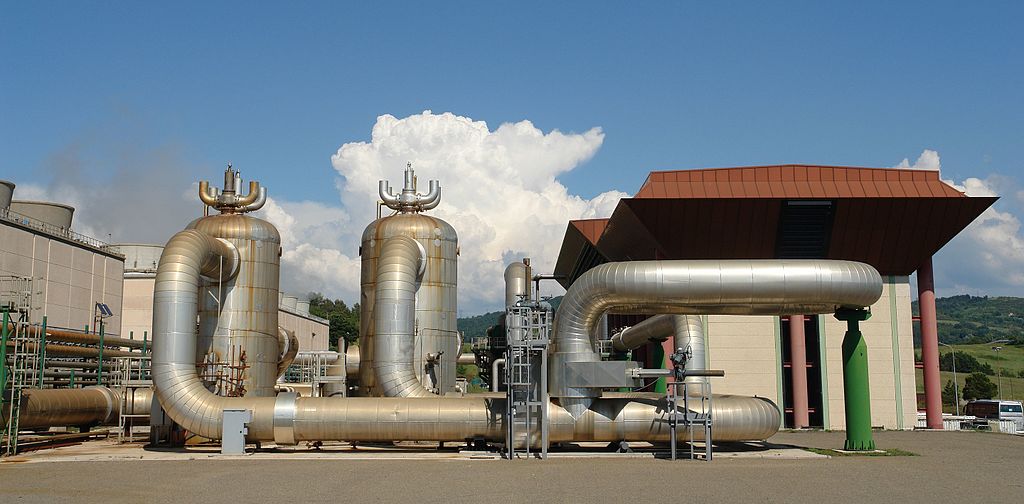 Valle Secolo geothermal power plant, Tuscany, Italy (source:T. AGEMAR, CC BY 4.0, via Wikimedia Commons
Enel Green Power (Enel) has signed an agreement to transfer the CO2 output from the Valle Secolo geothermal power plant in Tuscany, Italy to Lampo Greengas, a company in the field of carbon dioxide distribution and sales. This integration of two industries is expected to generate jobs and create new prospects in the capture, distribution, and sales of carbon dioxide.
Under the agreement, Enel will supply recovered CO2 through a pipeline to a new industrial site that will recover, store, and distribute CO2 for various industries including food and beverage, water treatment, and agriculture. CO2 from the geothermal power plant is considered to be environmentally sustainable and is a natural byproduct of subsurface geothermal processes, regardless of extraction.
Moreover, CO2 from Enel geothermal power plants has less impurities because of the Mercury and Hydrogen Sulfide Emissions Abatement (AMIS) technology. AMIS systems have been installed in all Enel geothermal power plants since 2016 and have more than 95% abatement efficiency.
Lampo Greengas will be investing around EUR 11 million for the construction of the industrial site and the pipeline to transport CO2. When fully constructed, the facility will make Tuscany a laboratory of technological innovations on the recovery of geothermal CO2. The current plan is to establish a recovery of 50,000 tons of CO2 per year, but this can be scaled up to 100,000 tons per year if the market responds favorably.
"I express great satisfaction for a project that combines innovation, environmental requalification, and employment – three fundamental objectives especially in a difficult period such as the one we are experiencing. Competitiveness today and the ability to defend one's position are based on quality: quality of human capital, quality of innovation and quality in creating synergies and putting new hypotheses into practice," commented Gianfranco Simoncini, the regional councilor for production activities.
"The agreement between Enel Green Power and Lampo Greengas is the culmination of a path we have been working on for years. At the same time, it is a starting point which will be followed by a series of initiatives involving the Region, the Municipality, and Enel Green Power together," added Loris Martignoni, the mayor of Pomarance.