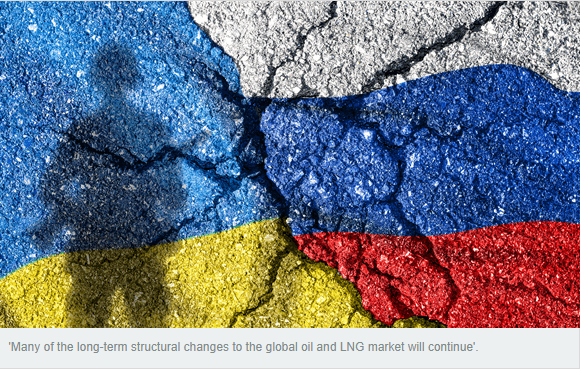 The end of the war in Ukraine would reduce pressure on Western governments to continue expanding sanctions on Russia's oil and gas sector.
That's according to Matthew Bey, a Senior Global Analyst at risk intelligence company RANE, who outlined that a war-end could also result in some sanctions, including the price cap on Russian crude oil and price cap on Russian oil products, "being relaxed, allowing Russia to sell its oil at near market levels".
"It would also reduce the risk of Russian oil exports declining substantially should the gap between international oil prices and the Russian price cap widen to the point where Russia decides to cutoff some exports," Bey told Rigzone.
"However, despite some of these risks reducing, many of the long-term structural changes to the global oil and LNG market will continue," Bey added.
Most European companies and countries will continue with their plans to reduce reliance on Russian gas and oil, even if some trade resumes, the RANE analyst noted.
"For its part, Russia will continue diversifying its customer base for oil and gas and building new infrastructure to export oil and natural gas to Asia," Bey said.
"It is unlikely that the war ends in a way that Russia's relations with the West are not worse off than they were before the war, which means that Russia will be concerned about a future breakdown in relations (i.e. if a ceasefire in Ukraine fails) with the West results in sanctions being re-applied on Russia's oil and gas industry," Bey added.
Is the War Likely to End in 2023?
The Russia-Ukraine war is unlikely to end in 2023 as neither Russian President Vladimir Putin nor Ukrainian President Volodymyr Zelenskyy are likely to be in a position where they can offer significant concessions to one another, Bey told Rigzone.
"With Russia's annexation of several Ukrainian territories, Putin is not in a position to offer concessions over these territories in talks with Ukraine. Zelenskyy, on the other hand, has been adamant that those territories need to remain a part of Ukraine," Bey said.
"We also do not anticipate any side having enough forces to 'win' the war by force and force the other to give up concessions as a way to reduce the humanitarian conflict. Nonetheless, as the year drags on we are likely to see Western support of Ukraine increasingly become more conditional on Zelenskyy pursuing de-escalation channels," Bey added.
"While countries like the United States may be less likely to tie aid to negotiations, some countries in Europe might be more willing to," Bey continued.
US Security Assistance Packages
On February 3, the U.S. State Department announced two new security assistance packages for Ukraine. The packages were said to include air defense and counter-drone capabilities, as well as armored infantry vehicles and other equipment including Javelin anti-tank missiles and artillery ammunition.
"Pursuant to a delegation of authority from the President, I am authorizing our 31st drawdown of U.S. arms and equipment for Ukraine since August 2021, valued at $425 million," U.S. Secretary of State Antony J. Blinken said in a government statement on February 3.
"In addition, the U.S. Department of Defense will be committing another $1.75 billion in support for Ukraine under the Ukraine Security Assistance Initiative," he added in the statement.
On January 19, Blinken authorized the 30th drawdown of U.S. arms and equipment for Ukraine since August 2021. That package totaled $2.5 billion and brought the total U.S. military assistance for Ukraine to around $27.5 billion since the beginning of the administration, Blinken outlined in a government statement at the time.
The overall EU military support to Ukraine is estimated at close to $12.9 billion (EUR 12 billion), according to a joint statement by Charles Michel, President of the European Council, Ursula von der Leyen, President of the European Commission, and Volodymyr Zelenskyy, President of Ukraine, which was published on the European Commission website on February 3.