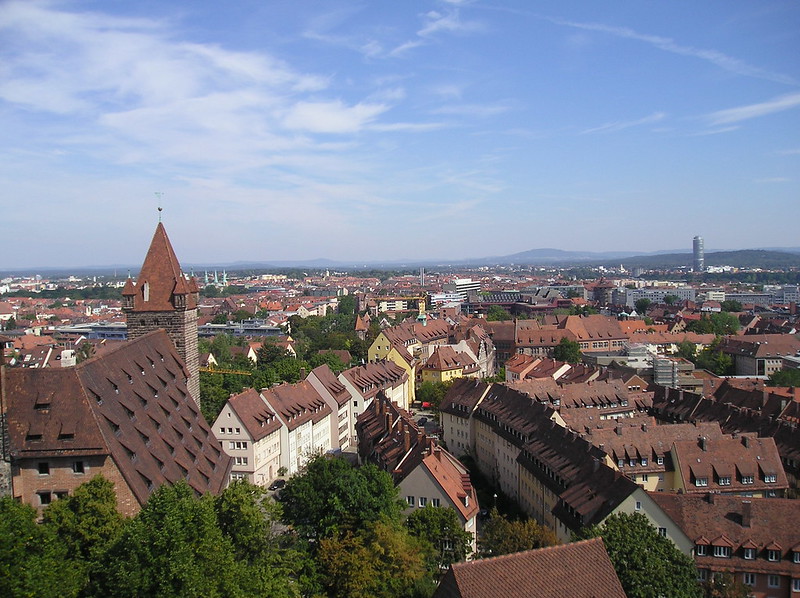 Nuremberg, Bavaria, Germany (source: Andrew Crump / flickr, Creative Commons)
Energy company N-Ergie has submitted an application to the Bavarian State Ministry to Economic Affairs, Regional Development, and Energy (StMWi) to explore the geothermal potential of the city of Nuremberg in Bavaria, Germany. The primary goal for this investigation wouldl be to determine the possibility of utilizing a geothermal resource for district heating.
The permission field of the application has an area of 193 square kilometers and essentially encompasses the entire city of Nurenberg and overlaps neighboring counties. If the application is approved, N-Ergie will be working with two renowned specialist offices for the exploration and utilization of geothermal energy. Extensive preliminary investigations, including aerial surveys, are planned before any test drilling will be done. N-Ergie expects to have the results of the preliminary investigations ready by 2026.
"Our goal is green district heating. Non-fossil sources already account for around a third in Nuremberg. In order to become more independent of natural gas, we will use all possibilities," explains N-Ergie Board Member for Markets and Technology Maik Render. "We hope that geothermal energy can become a building block for this. But first, of course, we want to know specifically what is possible here in Nuremberg."
Although most studies have identified geothermal resources in the south side of Bavaria, recent findings and technological developments have suggested a certain geothermal potential in the Franconia region. "We therefore see an opportunity for us to be able to develop the climate-friendly resource of geothermal energy in and around Nuremberg. If the investigations deliver the hoped-for positive results, we want to start planning the appropriate systems as soon as possible," says Board Member for Human Resources and IT Magdalena Weigel,.
"Energy transition means, above all, heat transition, which is still often forgotten. For our way to becoming a climate-neutral city, this means: We want to connect more people to the district heating network and supply them with increasingly green district heating," says Mayor Marcus König.