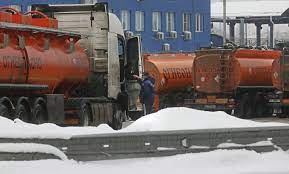 EU imports of non-Russian gasoil and diesel rose sharply last week, helping to build up inventories ahead of the bloc's impending embargo on Russian oil products.
The EU received around 146,000 t/d from non-Russian sources in the week to 29 January, up from a full-year average of around 88,000 t/d in 2022, according to Vortexa data. Around 44,000 t/d of last week's non-Russian supply arrived from Saudi Arabia, about 80pc more than the 2022 average. The EU also received around 20,000 t/d from the US and 19,000 t/d from the UAE, both around four times higher than last year's average, and 15,000 t/d from Kuwait, roughly nine times more than in 2022.
The EU continued importing from Russia as well, taking 88,000 t/d last week, compared with 80,000 t/d across the whole of last year. The unusually large volumes of non-Russian imports may be difficult to sustain over a prolonged period. But European traders say their storage tanks are relatively full and demand from buyers has been depressed since November, so they are not worried about securing replacements for Russian diesel next month when the EU ban comes into effect. Most see a structural shortfall in Europe once diesel stocks are run down and demand picks up.
India is the only major non-Russian supplier that has not increased shipments to Europe this month. The EU's daily intake of Indian diesel and gasoil was lower in January than the 2022 average. Supply from non-Russian sources has been back-loaded in January, with last week's flurry of arrivals coming on the back of a thin patch in the middle of the month. Across January as a whole, the EU has imported around 119,000 t/d from outside Russia.
Non-Russian diesel in Europe has commanded wider premiums over Asian product in January, with front-month Ice gasoil futures around $60/t above front-month Singapore gasoil swaps on average, up from $45/t in December. But it has lost value against US Gulf coast product in recent weeks, which may start to constrict transatlantic trade.
Meanwhile, the price of Russian diesel is falling as EU trading firms that are flush with diesel anyway become increasingly wary of falling foul of sanctions as the embargo draws near. Argus understands that cargoes loading at Russian Baltic ports are trading at discounts of more than $200/t against non-Russian cargoes delivered to northwest Europe, equivalent to $25-30/bl, which puts them in the same ballpark as the $90-110/bl range that EU policymakers are discussing for a price cap on Russian oil product sales.
As with a similar measure on Russian crude sales, EU and G7 firms will be allowed to provide insurance and credit for third parties to buy Russian diesel if it is purchased below the price cap.