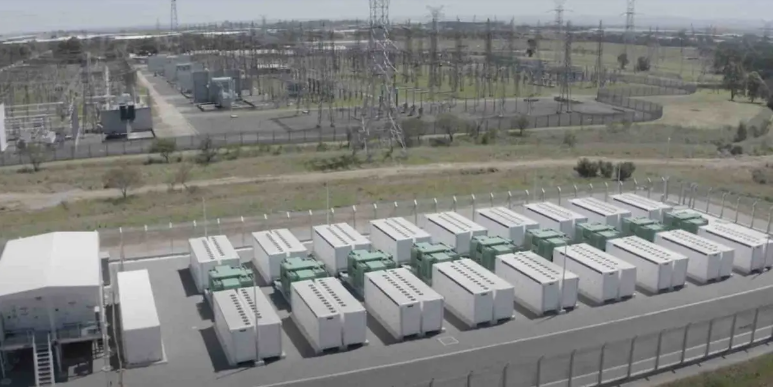 The NSW state government's plans to replace its entire coal fleet with wind, solar and storage is creating some intense competition among project developers for valuable space on the grid.
The competition among battery storage projects is most intense. A number of different battery storage projects are doubling up at the same connection points, keen to take advantage of key points in the grid (substations and transmission lines) and minimise their own connection points.
Recent applications for planning approvals in NSW show at least eight big battery projects located within a few hundred metres of a competing project.
In the New England Renewable Energy Zone, for instance, Equis Energy has chosen a site 800m away from the Tamworth substation for its 300MW/1200MWh Calala battery, while Maoneng had already secured the paddock right next door to the substation for its 200MW/400MWh Tamworth Big Battery.
In the Central-West Orana REZ, Akaysha Energy is butting up against Shell Australia and Singapore-based Ampyr's local subsidiary.
The 500MW/1000MWh Wellington South Battery Energy Storage System, owned by Shell and Ampyr Australia is 400 metres from the substation.
Just 300m to the west, Akaysha, which is backed by Blackrock and blasted into the Australian renewables scene by winning the $1 billion contract to build the Waratah super battery, snuck in a little closer to the substation with a spot just to the south.
It wants to build the 400 MW/1600 MWh 'Orana' battery able to supply up to eight hours of power — a first for Australia — right next to the Wellington Solar Farm.
Outside the REZs, Canadian Solar's 100 MW/200 MWh Panorama BESS is planned to go in next to the Bathurst substation, but that could depend on whether a 25MW/50 MW system being considered by Transgrid goes ahead — the company which runs the substation.
At the former Wallerawang coal plant near Lithgow, Neoen wants to build a 500MW/1000MWh battery dubbed Great Western, but so does privately owned developer Greenspot which has planning approval for a BESS of the same size. Both are equidistant from the Transgrid-operated substation.
Neoen's project is currently under assessment by the NSW government, and Greenspot's was approved in August.
A NSW government spokesperson told RenewEconomy that 'the Department assesses all projects on their merits in accordance with the Environmental Planning and Assessment Act" and that "strict consent conditions are placed on approved projects to ensure all potential impacts are effectively minimised, managed or offset."
It said cumulative impacts are also taken into account when approving projects, but did not address the issue of large BESS developments.
Those decisions are likely to be decided by the NSW roadmap, which will be selling "access rights" as part of its plans for more than $30 billion of new generation and storage over the next decade.
Upgraded Tamworth substation a drawcard
The Tamworth substation and its proximity to both the town and several wind and solar farms attracted Maoneng in 2021 and Equis Energy in December last year.
The Middlebrook Solar Farm, Tamworth Solar, the Hills of Gold wind farm and the Thunderbolt Energy wind farm are close by and the substation itself was upgraded last year as part of the Transgrid Queensland-NSW Interconnector (QNI) project.
Maoneng, which began as a rooftop solar company in 2010, launched a proposal for its Tamworth BESS in 2021 and is in the earliest stages of planning — although it wants to have the project finished this year.
The company says the battery will provide grid stability and reliability during peak periods. Maoneng and AGL Energy have an agreement in place where the latter will buy dispatchable power from a number of sites from 2023.
Equis Energy launched a proposal for its Calala BESS next door in December 2022, at an estimated cost of $400 million.
"The [Tamworth substation] site was selected after a comprehensive assessment of electrical supply and demand across NSW, which included a review of Australian Energy Market Operator's (AEMO's) Integrated System Plan (ISP) and future demand expectations," Equis' scoping report said, on why it chose Tamworth for a battery.
It plans to use the site for grid firming and storage.
Mass of wind and solar make Wellington a must
There are almost 40 wind and solar projects in and around the Central-West Orana REZ. So popular was this REZ, the first to be developed, that it received 27GW of proposals when it sought 3GW.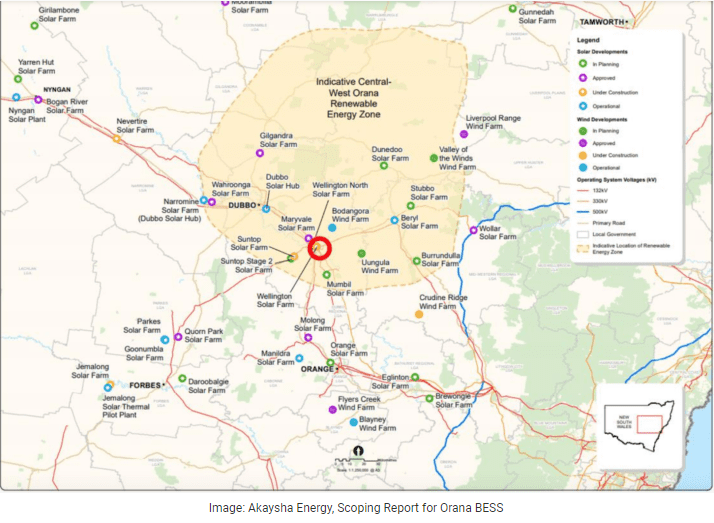 Ampyr and Shell filed their initial documents in late 2021. The Wellington South battery is now about half way through the planning process, at the response to submissions stage.
Akaysha's Orana project is further behind having only filed its documents in mid-2022.
"The project would benefit the electricity grid by balancing the network through the addition of energy storage. This stored energy would be utilised during periods of low renewable output into the energy grid," Akaysha said in planning documents.
"Greater utilisation of large-scale battery storage in conjunction with other dispatchable energy resources may decrease peak wholesale prices. This is due to the ability of battery storage to buffer the energy market
during tightened supply times when demand is high."
Ampyr said in October that if finance and planning approvals arrive in time, construction could start on the project in the middle of this year.
Off-zone pairings
In 2021 in the Bathurst area, Transgrid identified the problem as not being too much electricity but too much demand from expanding mines and rising business activity, and saw batteries as one of the solutions available to manage grid stability.
It has proposed installing a battery at Parkes and a 25 MW/50 MWh version at the Panorama substation, which it owns.
However, also vying for a spot near this substation and a connection into it is Canadian Solar's 100 MW/200 MWh Panorama BESS, designed also to make money from solving grid constraints.
Panorama is in the early stages of planning, but Transgrid in a letter reiterated that it's not a customer project and Canadian Solar will need to get a new connection from the network operator if it wants to link into its substation.