The overall electricity cost is likely to rise by up to 10% when a fifth of a powerplant's coal requirement is transported through the 'rail-ship-rail' system, a seniorgovernment official told ET
The power ministry had on Monday asked Gujarat, Rajasthan, MaharashtraPunjab as well as NTPC to transport 10-15% of their coal requirement through acombination of land and sea route. also called rail-ship-rail mode
The new coal transport mechanism was worked out because of logisticaconstraints of direct rail movement and an anticipated increase in coarequirement in the coming peak demand season of April-May. The power cost willstill be cheaper than that produced using imported coal.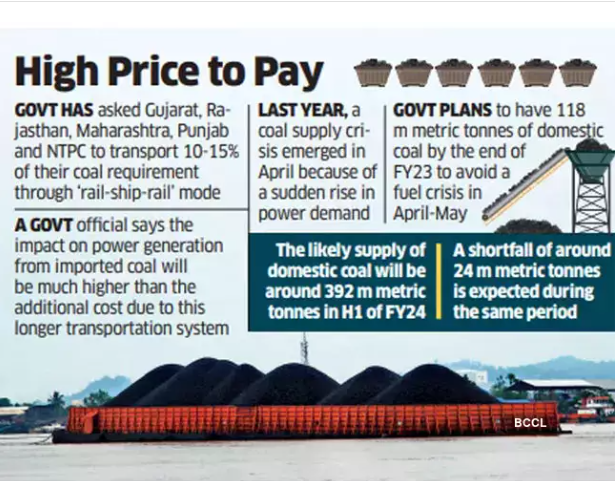 "Let's say today power is being sold at 4 per unit then it will be 4.4 per unit (afterrail-ship-rail). But if we generate power through imported coal, then it will be 5per unit" the official said. "So, the impact on power generation from imported coalwill be much higher than the additional cost because of this longer route oftransportation" he said.
The new mode of transport will take coal from Coal India's mines to Paradip Port.from where the fuel will move to the west coast for various power plants, travellinga longer distance than the traditional direct rail route
"Due to the recent surge in demand and consumption of electricity, the share ofcoal-based generation has increased. Athough the supply of coal from all sourceshas increased, it is not commensurate with the requirements of thermal powerplants" the power ministry had said on Monday.
Last year, a coal supply crisis emerged in April because of a sudden rise in powerdemand, stretching the Railways and coal production. The coal ministry also plansto have 118 million metric tonnes of domestic coal by the end of the ongoingfinancial year to avoid a fuel crisis during the peak power demand season in Apri-May. Other measures like an increased gas supply to power plants, blending ofimported coal, and staggered power plant maintenance have also been plannedby the power, coal, and renewable energy ministries to meet the upcoming peakdemand