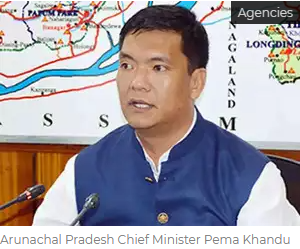 The Arunachal Pradesh cabinet has finalished an action plan to unlock the state's hydropower potential to strengthen the country's energy sector, an official statement said on Wednesday. During the first cabinet meeting of the year, chaired by Chief Minister Pema Khandu on Tuesday, the council of ministers decided that some important stalled projects, which were being executed by independent power producers (IPPs), will now be handed over to central public sector undertakings (CPSUs) for development.
"An action plan has been prepared to commence work on 13 priority projects with a total capacity of 12,343 MW. This would lead to an investment of Rs 1.5 lakh crore. It would provide revenue of Rs 2,000 crore to the state and around Rs 350 crore per year for local area development," the official statement said.
The cabinet also observed that Arunachal Pradesh, through its hydropower generation capability, would contribute significantly to India's commitment to increase non-fossil energy capacity to 500 GW, it said.
"Hydropower is a major source of renewable energy, and if harnessed, it would bring in all-round socio-economic development through massive investment in infrastructure," the statement said.
The cabinet also decided to handover over five terminated power projects to two CPSUs - Naying (1000 MW) and Hirong (500 MW) to NEEPCO and Emini (500 MW), Amulin (420 MW) and Minundon (400 MW) to the Satluj Jal Vidyut Nigam Limited (SJVNL) for development.
The state will see "an investment of Rs 40,000 crore in the next five to seven years" through these projects which would generate green power of 2,880 MW, the statement said.
These projects would also provide revenue of around Rs 500 crore per year and Rs 100 crore for local area development, it said.
The cabinet also approved an "indicative procedure for transferring the stalled hydropower projects from the IPPs to CPSUs in order to unlock the potential," it said.