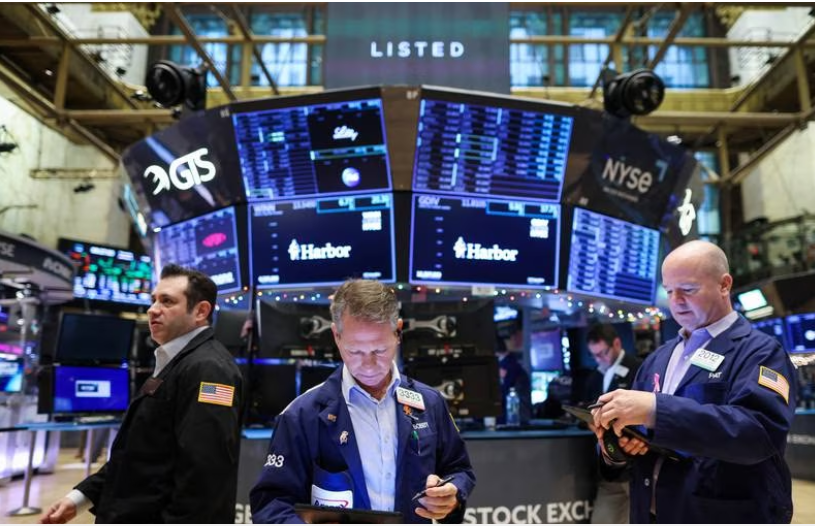 The New York Stock Exchange. An Oanda analyst says energy traders believe Opec+ will do whatever is needed to support prices. Reuters
Oil prices dropped on Wednesday amid a build-up in US crude stocks and growing fears of a global economic slowdown.
Brent, the benchmark for two thirds of the world's oil, was 0.56 per cent lower at $79.65 a barrel at 11.40am UAE time while West Texas Intermediate, the gauge that tracks US crude, was down 0.68 per cent at $74.61 a barrel.
US crude stocks rose by about 15 million barrels in the week that ended on January 6, according to market sources as they cited data from the American Petroleum Institute.
Oil prices inched up on Tuesday after the US Energy Information Administration (EIA) said it expected global consumption of liquid fuels such as petrol, diesel and jet fuel to set a record in 2024.
Global liquid fuel consumption will exceed 100 million barrels per day, on average, in 2023 for the first time since 2019, then average more than 102 million bpd in 2024, the EIA said in its short-term energy outlook.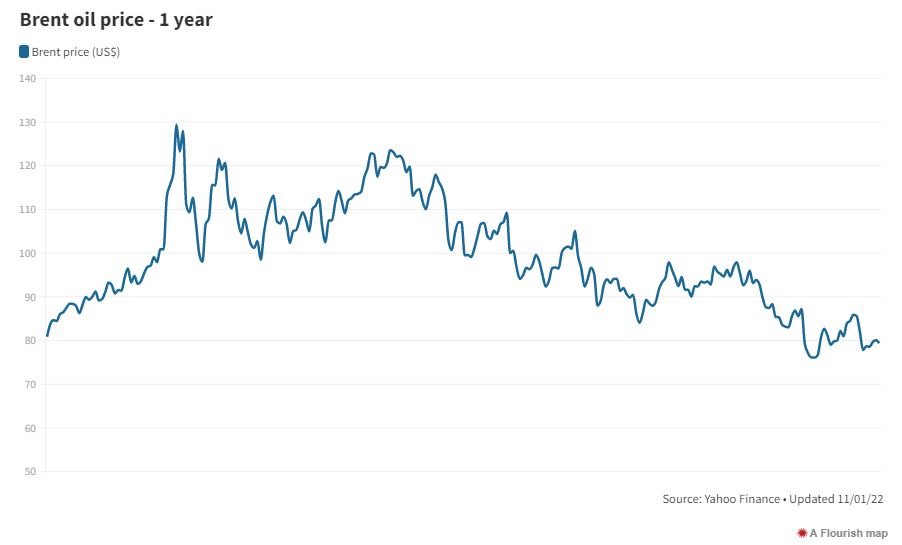 However, the statistical agency expects crude prices to fall throughout this year and the next on a rise in oil production in the US and other markets.
The EIA expects Brent to average $83 a barrel in 2023 before falling to $78 a barrel next year as global oil inventories build.
The World Bank has said that the global economy is set for a sharp downturn this year, with growth nearly halving and the slowdown affecting all regions.
Global growth is projected to decline to 1.7 per cent in 2023, from the 3 per cent forecast six months ago, the Washington-based lender said in its latest Global Economic Prospects report released on Tuesday.
The World Bank forecasts oil prices at $88 a barrel in 2023 and $80 a barrel in 2024.
"The oil market is digesting a global slowdown that might not be as bad as feared," said Edward Moya, senior market analyst at Oanda.
"Energy traders still believe that the Opec+ will do whatever is needed to keep prices supported and that includes more production cuts this quarter."
Brent rose by as much as 3.8 per cent to a session high of $81.37 on Monday on news of top crude importer China reopening its borders after about three years.
The global oil benchmark fell by more than 8 per cent last week, its biggest weekly loss in the first seven days of a new year since 2016.
"Oil seems like it wants to waver right now until we get a better handle on China's covid surge," said Mr Moya.
"As China battles an unprecedented surge in Covid cases, everyone wants to see if travel continues to rebound."
US investment bank Goldman Sachs expects Brent crude to trade at $105 a barrel by the fourth quarter of 2023, driven by a "solid" growth in global oil demand.
It expects oil demand to grow by 2.7 million bpd this year and said the market would be back in a deficit in the second half of 2023.
In October, the Opec+ group of oil-producing countries slashed its collective output by 2 million bpd until the end of 2023.