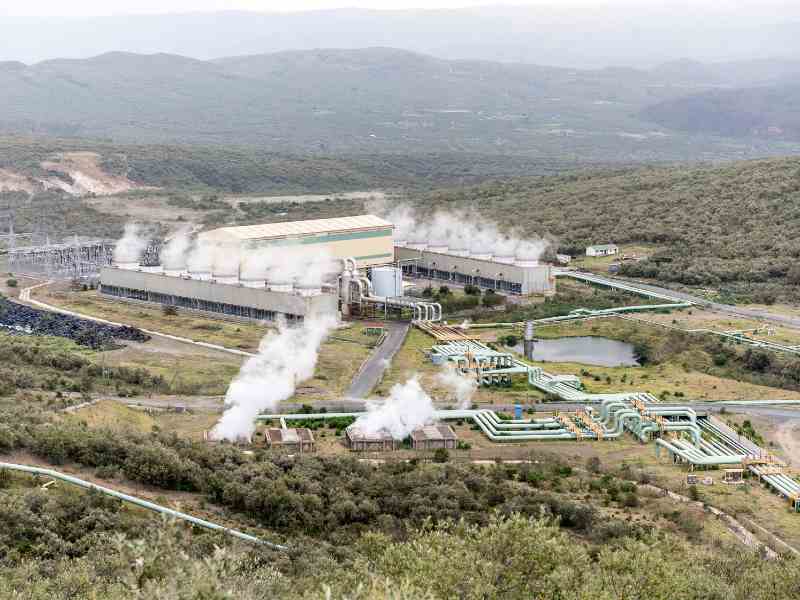 Olkaria plant. Image courtesy KenGen
State-owned generation company Kenya Electricity Generating Company PLC (KenGen) has announced a renewed plan to scale up the deployment of renewable energy by adding 3,000MW.
Managing director and CEO Abraham Serem said the company revamped its corporate strategy and rolled out a 10-year strategy that seeks to add 3,000MW. He further added that the company will be seeking to rehabilitate its existing power plants to make them more efficient for sustainable generation.
This new campaign will be driven largely by deploying up to 2,000MW from geothermal and hydroelectric sources as baseload power to stabilize the country's energy sources and diversify away from expensive thermal sources. At the same time, KenGen said it has put in place plans to optimize the existing hydro sources as it pushes for the development of new hydropower stations and the expansion of existing ones, particularly within the Tana River basin. Serem said KenGen would be looking to tap into the vast potential of geothermal energy in the Rift Valley region, which is estimated to be about 10,000MW of clean and renewable energy.
"So far we have only exploited about 0.9GW of the 10GW geothermal potential and that is why a huge chunk of the additional capacity will be drawn from geothermal," said Serem. "Our focus going forward is to secure the baseload capacity to stabilize Kenya's energy supply mainly from green renewable energy."
He singled out the upcoming 305MW geothermal projects, with 280MW coming from Olkaria and 25MW from the Eburru geothermal power plant, for which he said construction would commence immediately after getting the requisite approvals. In addition, the company plans to leverage new technology to rehabilitate its oldest geothermal power plant, 45MW Olkaria I, to give it a new life and increase its generation capacity to more than 60MW.