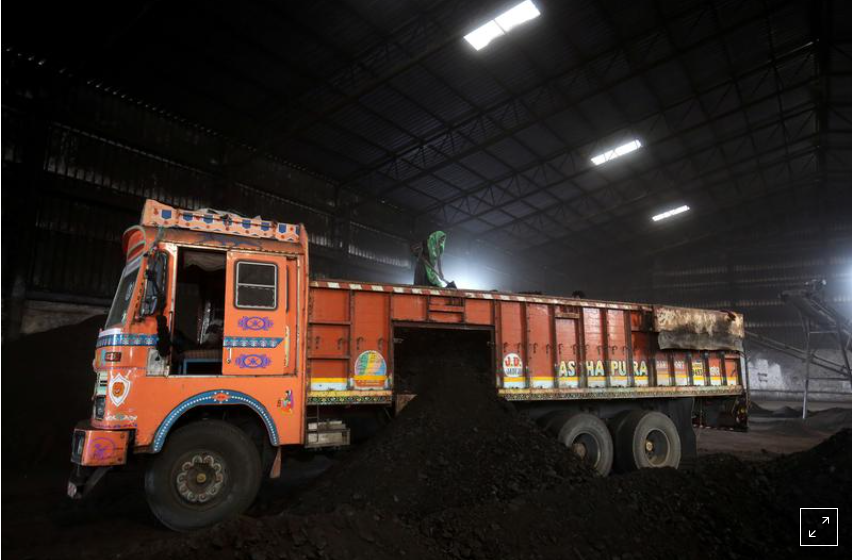 FILE PHOTO: A worker shovels coal in a supply truck at a yard on the outskirts of Ahmedabad, India, October 25, 2018. REUTERS/Amit Dave
India's imports of thermal coal - used mainly for power generation - grew 14.7% to 161.18 million tonnes in 2022, data from Indian consultancy Coalmint showed on Monday, driven by higher domestic production and shipments by utilities.
Data showed that shipments of coal, which is typically used to manufacture steel, also edged higher. Imports of coking coal rose 0.8% to 56.1 million tonnes, anthracite grew 12.2% to 1.79 million tonnes, and PCI coal shipments increased 8% to 13.43 million tonnes.
Indian imports of petcoke, mostly used by cement plants, doubled to 9.77 million tonnes in 2022 as they were cheaper compared with coal, whose prices hit record highs following Russia's invasion of Ukraine.
Thermal coal imports were driven higher by an uptick in demand from utilities, as power demand surged due to a resurgence in industrial activity following the easing of coronavirus-related restrictions and an intense heatwave in the first half of the year.
Thermal coal imports by power plants increased 58.1% to 47.6 million tonnes during the first 11 months, compared with the same period in 2021, government data showed. Data on coal imports by utilities in December was not available.
Indonesia cemented its place as India's largest overseas supplier of thermal coal, with its share rising to two-thirds in 2022, from over half the market in 2021.
Indonesia's share rose at the expense of Australia and South Africa, while Russia overtook the United States to become India's fourth-largest supplier.
However, the United States increased its share in India's coking coal imports, more than doubling supplies to Indian steelmakers to 7.03 million tonnes. Higher U.S. supplies resulted in Australia's share falling to 68% of the Indian overseas coking coal market in 2022, from 80% in the prior year.
Russia surpassed Australia to become India's largest supplier of PCI coal, with exports nearly trebling to 7.33 million tonnes, the Coalmint data showed.