High wholesale electricity costs have seen three charge point operators (CPOs) in the UK raise the cost of charging electric vehicles (EVs) at peak times. GeniePoint, Ubitricity and Char.gy have all joined Tesla in deploying dynamic pricing across their public networks, offering drivers lower rates for charging at off-peak hours, and higher prices during times of peak demand.
Dynamic pricing is a tool companies can deploy to better reflect higher input prices, which sees CPOs charged more for electricity when there is more demand on the networks, while still offering customers access to cheaper rates outside peak times.
While the CPOs have been motivated to implement dynamic pricing for similar reasons, the structures of their tariffs are varied, with differences between when peak prices occur and what are off-peak and peak rates (Figure 1). Ubitricity has also introduced an element of smart charging, with drivers able to delay charging until after the peak period ends.
The optimum dynamic pricing structure will depend on the contracts between CPOs and energy suppliers, expected demand throughout the day, and the willingness of customers to adjust behaviour around the price. What works in one case may be less appropriate in another, depending on where the chargers are located.
Early signs are that the energy crisis will continue to motivate CPOs to explore dynamic pricing, with Allego recently introducing peak pricing on its 50kW+ chargers in France. As more CPOs follow suit, it is important they work with consumers to help them realise the benefits of dynamic pricing rather than experience it as another challenge on the public network.
Figure 1: Pricing schedules for the three CPO tariffs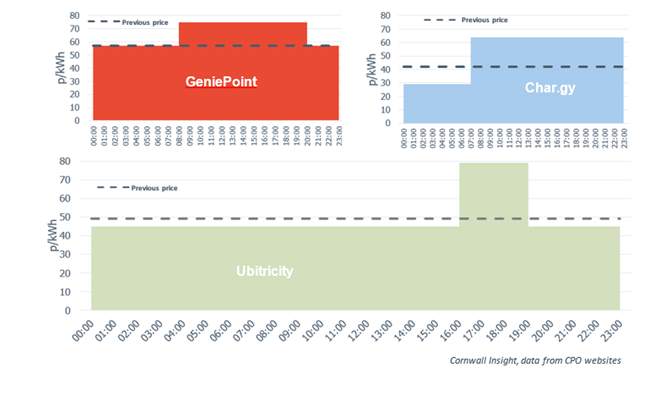 Oliver Archer, Lead Analyst at Cornwall Insight:
"Against the backdrop of rising commodity costs, charge point operators are trying to price in a way that supports the best use of their network, while still reflecting high input costs. Dynamic pricing may be a useful tool in this task, if done well. In many cases it will clearly be preferable to pushing up costs across the whole day.
"The challenge lies in setting a tariff that works for CPOs and drivers. Using the public network can already be complex and frustrating, and CPO's need to ensure that dynamic pricing is seen as an opportunity by customers and not simply another inconvenience. This includes getting the tariff structure right and helping drivers to navigate a network of moving prices from multiple operators. The risk is that difficult decisions prompted by the energy crisis could push us towards dynamic pricing faster than we can help customers adjust to and take advantage of it."