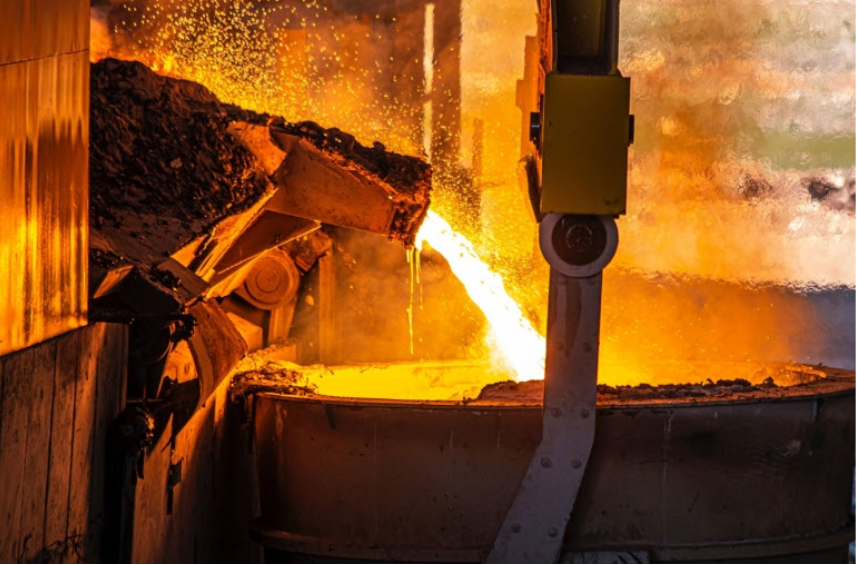 Norwegian company Blastr Green teel (Blastr) is planning to establish a green steel plant with an integrated hydrogenproduction facility in lnkoo,Finland. Blastr has entered into a letter of lntent with Nordic energy company Fortum that providesBlastr exclusive rights to utilize an existing industrial site located in lnkoo. The four-billion-euro investment is expected to createup to 1,200 direct jobs in the operations phase. The production is planned to start by end of 2026.
Green steel is a key enabler for the green transition, as it will be a critical raw material for developing renewable energy infrastructure,such as wind turbines, as well as in segments such as construction, the automotive industry, and consumer goods. In Europe alone,the demand for decarbonized steel is expected to reach 50 milion tons by 2030, nearly one-third of the current European steedemand.
Finland is an ideal location for our project, t has an ambitious low-carbon target, supportive and predictable operating conditionsfor the green industry, fossi-free energy, and a highly qualifed workforce. inkoo was selected as our location due to its high-qualityinfrastructure and access to clean power. ln addition, the ice-free deep-sea harbor enables efficient, low-carbon logistics all yearround and close access to the Furopean market. said Hans Fredrik Wittusen. CEO of Blastr Green Steel.
Blastr's project will bee among the largest industrial investments in Finland
I'm extremely pleased that the site location has been now confirmed, as we have worked on this project for a long time. Blastr'sdecision to locate in lnkoo is a proof of the competitiveness of the Finnish industry and infrastructure. Finland is an excellent place forcarbon-neutral industry and production of decarbonized steel: We have a strong and reliable electricity grid, good conditions forproducing emission-free energy and efficient logistics. The proiect will significantly further improve our competitiveness, deepeningour expertise, and create plenty of jobs and wel-being The project also contributes greatly to the climate and carbon neutrality goalsof both Finland and the Eu", said Minister of Economic Affairs Mika Lintila.
The green steel plant together with the integrated hydrogen facility will be among the largest industrial investments planned inFinland to date.
Blastr's proiect will be one of the biggest industrial projects and potential employers in Finland. lt is significant also for the entire-uropean industry as an enabler ot the green transition. Blastr s arrival in -inland is a resut of Nordic cooperation, strengthening iteven further, On the same, the proiect accelerates the development of innovations re ated to the green transition together with otherinvestments, said Markku Kivisto, Head of lndustry Cleantech, Invest in Finland at Business Finland at Business Finland.
Blastr aims to cut the CO2 emissions of its end products by 95 percent
The steel industry produces about eight percent of the world's CO emissions due to the high amount of fossil fuels used tomanufacture steel through conventional methods. (urrently, one ton of steel produced creates about 1.9 tonnes of (O2. Blastr willreplace coke and coal with hydrogen in the chemical reduction phase, as wel as reduce the (O: footprint along the entire value chain.with the aim of achieving 95 percent lower CO2 emissions, compared to the conventional manufacturing process.
The steel plant is planned to produce two and a half milion tons of high-quality hot and cold-rolled green steel annually.
We are dedicated to decarbonizing the steel manufacturing industry, as it is one of the largest global CO2 emitters. With the greensteel produced in nkoo, we aim to reduce carbon emissions by 4. milion tons of (0 per year compared to conventional methodstorresponding to the amount of emisions created bv a passenper cars in rin and annual,We wil svstematica v address at oarts otthe value chain to reduce overall carbon footprint, reduce waste and develop circular solutions, Furthermore. our ambition is tosecure a significant share of our power needs from directly or indirectly owned wind parks, contributing through own investmentsand partnerships to advance clean enerey production in Finland. We believe that our proiect will provide positive benefits for theregion, and we will engage in an active dialogue and cooperation with the local community and other stakeholders", Wittusenconcluded