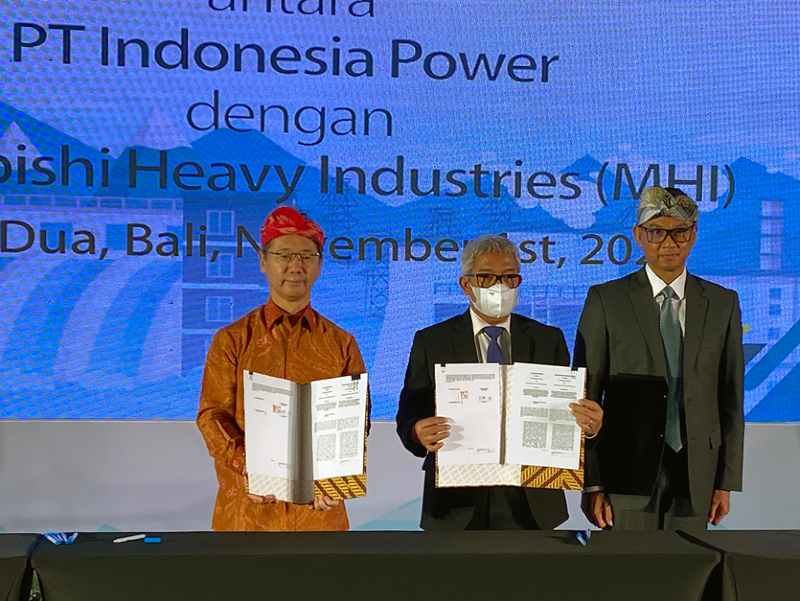 [Pictured from left to right] Osamu Ono (Chief Regional Officer, Asia Pacific & India/MHI), Rachmad Handoko (Director/Indonesia Power) and Darmawan Prasodjo (President Director/PLN) at signing ceremony. Image credit: Mitsubishi Heavy Industries, Ltd.

Mitsubishi Heavy Industries is to explore co-firing less carbon intensive fuels at power plants owned and operated by Indonesia Power.

The studies will be supported by Mitsubishi Power with the goal of advancing solutions to decarbonise energy systems in Indonesia.

According to an MHI statement, the first tests will examine the technical and economic feasibility of co-firing up to 100% biomass at the Suralaya coal-fired power plant. The study will consider handling, storage, transport and boiler modification.

The second study, also at the Suralaya plant, will investigate co-firing of ammonia produced by existing ammonia plants in Indonesia. The partners will focus on the potential to establish a blue ammonia supply chain with production and transportation from the ammonia plant and ammonia co-firing technology to apply in the existing boiler.

The third study will evaluate the feasibility of hydrogen co-firing in an M701F gas turbine at the Tanjung Priok combined cycle facility.

Osamu Ono of MHI Asia Pacific & India said: "This new agreement with Indonesia Power will not only enhance the reliability and efficiency of existing facilities, including the Tanjung Priok plant we helped build, but also explore innovative solutions imperative to achieving urgent environmental sustainability goals while delivering on the country's critical energy needs."

Since 1971, Mitsubishi Power has been supporting PLN and Indonesia Power with solutions for power plants across the country. In March this year, MHI and PLN, together with Institut Teknologi Bandung, prepared a joint proposal on biomass co-firing adoption at Indonesia's thermal power plants and presented their findings to the national government.

Indonesia's energy outlook

A report released in October this year by the International Renewable Energy Agency (IRENA) and the Indonesian Ministry of Energy and Mineral Resources highlights that the country has the highest energy consumption among the Member States of the Association of Southeast Asian Nations (ASEAN).

The report emphasises however, that Indonesia is uniquely positioned in terms of its renewable resources to develop a system that lowers emissions and energy costs while ensuring the energy security needed to support its growing economy.