Cummins will unveil a medium-duty truck powered by a hydrogen internal combustion engine at the upcoming IAA Transportation exhibition in Hanover, Germany.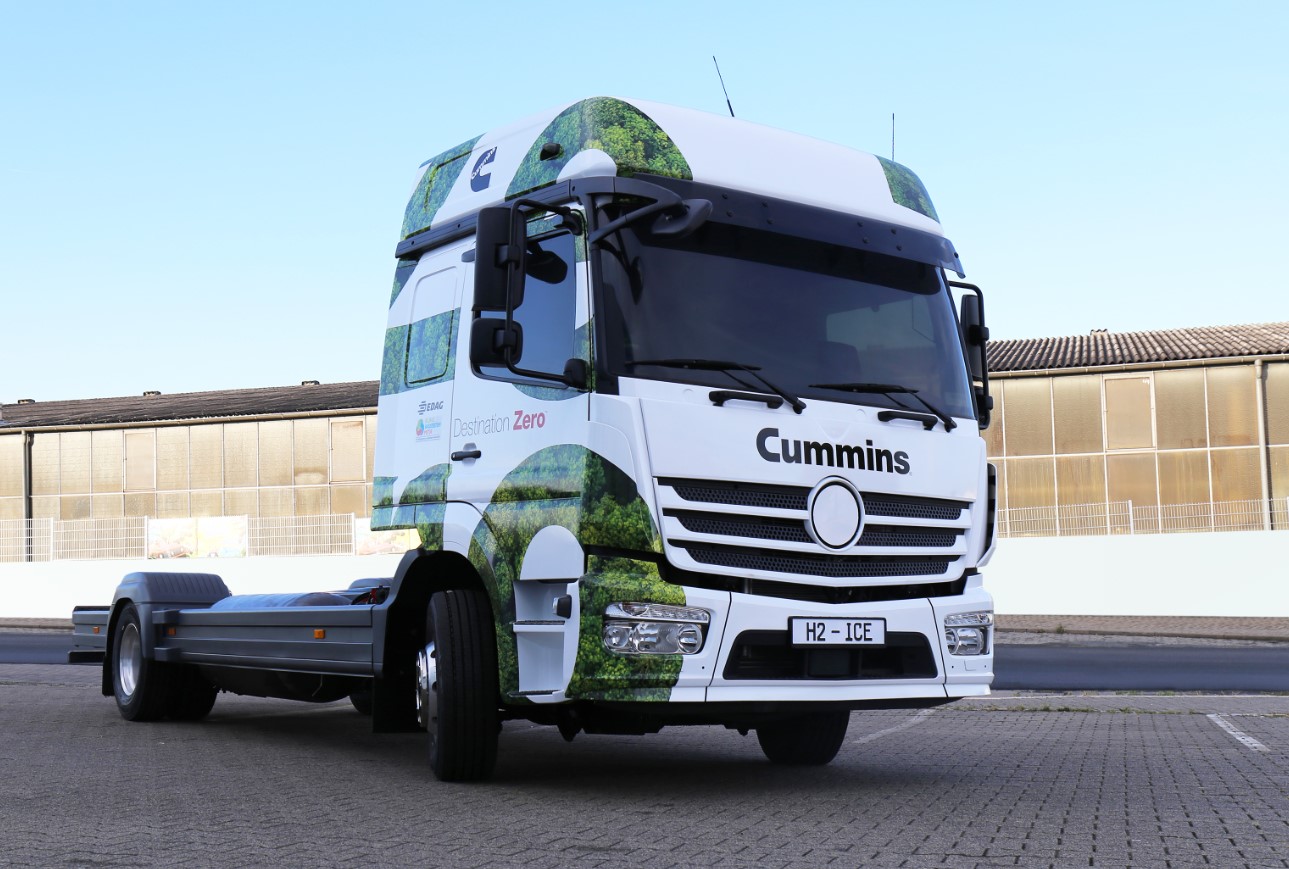 Cummins H2-ICE concept truck - Cummins

The H2-ICE project is based on a Mercedes-Benz Atego 4x2 truck, converted to run on Cummins' B6.7H hydrogen internal combustion engine, which can deliver 290hp (216kW). Featuring a 700-bar pressure, high-capacity hydrogen storage system reinforced with carbon fibre, the truck is claimed to have an operating range of up to 500km.
"The H2-ICE concept truck on show at IAA puts Cummins at the forefront of this rapidly emerging internal combustion engine technology using zero-carbon hydrogen fuel," said Alison Trueblood, executive director of On-highway Business Europe at Cummins.
"While Cummins hydrogen fuel cells offer a highly effective solution for specific applications within the truck industry, our hydrogen engines can also help accelerate fleet decarbonisation by offering a lower cost basis using more familiar engine technology."
According to Cummins, the B6.7H is designed to operate across the 10-to-26T gross vehicle weight (GVW) truck segment, providing 1200Nm peak torque. Cummins worked with hydrogen storage specialist NPROXX to develop the twin hydrogen fuel tanks that have a combined capacity of around 40kg, with additional space on the chassis for an auxiliary 10kg tank.

Cummins' B6.7H hydrogen internal combustion engine - Cummins

Together with the energy efficiency of direct-injection learn-burn combustion, this high-capacity storage ensures range beyond what a battery-electric truck of comparable size could deliver. According to Cummins, the B6.7H-powered truck can be refuelled in as little as 10 minutes.
"The introduction of H2-ICE powered trucks over the shorter term can help develop the hydrogen fuel infrastructure to bridge the way forward for the wider adoption of fuel cell electric vehicles," said Trueblood. "In this way, hydrogen engines and fuel cells are complementary technologies, working together to drive the hydrogen economy forward."
The B6.7H hydrogen engine will be joined on the Cummins display at IAA by the X15H hydrogen engine, suitable for long distance trucks of up to 44T GVW, with a top rating of 530hp (395kW) and peak torque of 2600Nm. Cummins says a heavy-duty truck featuring a high-capacity hydrogen fuel storage system and powered by the X15H could offer a potential operating range of more than 1,000 kilometres.