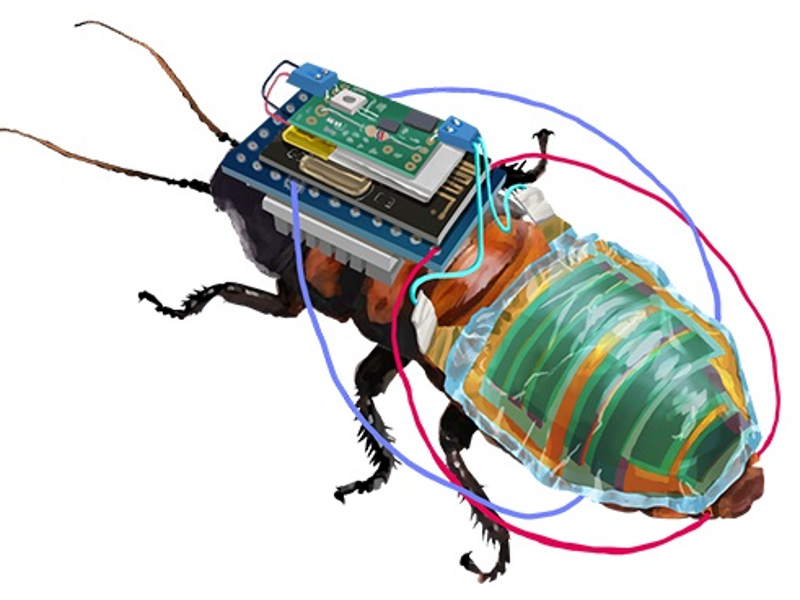 Imagr: RIKEN CPR

Machine learning based battery charging protocols, propane as an energy efficient and environmentally friendly coolant for space cooling, the remotely controlled Robobug and a new light on nano-level electrical circuitry, satellite observations for energy development in Africa and a zero emission luxury catamaran are on the technology radar.

Superfast EV charging

Despite the growing popularity of electric vehicles, the slow charging time still puts off many from making the switch, while at the same time speeding up the charging process risks damaging the battery and reducing its lifespan.

But now scientists report that they've designed superfast charging methods tailored to power different types of electric vehicle batteries in 10 minutes or less without harm.

Applying machine learning techniques to data on the condition of lithium-ion batteries during their charging and discharging cycles, the scientists at Idaho National Laboratory report predicting lifetimes and the ways that different designs would eventually fail, which could then be fed back to identify and optimise new charging protocols.

"Currently, we're seeing batteries charge to over 90% in 10 minutes without lithium plating or cathode cracking," says researcher Eric Dufek, pointing out that with this, EV charging becomes very similar to filling up at a gas station.

The researchers now plan to use their model to develop even better methods and to help design new lithium-ion batteries that are optimised to undergo fast charging. The ultimate goal is for the electric vehicle to communicate its specific charging protocol to the charging station.

Propane – sustainable alternative for air conditioning

The use of air conditioning has increased in recent years, accounting for around of one-tenth of worldwide energy supply, and is set to increase further with the energy demands of space coolers potentially tripling by 2050 if the current temperature trends continue.

Coupled with this, split air conditioners mostly use fluorocarbons that are known greenhouse gases as refrigerants.

New research led by Austria's International Institute for Applied Systems Analysis with researchers from UNEP and the University of Leeds suggests a switch to propane as air conditioner refrigerant could provide an energy efficient and environmentally friendly alternative, avoiding a 0.09oC increase in global temperature by the end of the century and thus making a significant contribution to keeping the rise to within 1.5oC.

Split air conditioners using propane are already available in China and India, but they have yet to enter wider use, with in some cases national regulations hindering their wider adoption.

Robobug – a solar powered cyborg cockroach

Cyborg insects – part insect, part machine – are thought to have potential for environmental monitoring and for example, helping to inspect hazardous areas. However, for their use to be practical, handlers need to be able to control them remotely for long periods of time.

Now a research team led by the RIKEN Cluster for Pioneering Research in Japan believe they have overcome this challenge. Experimenting with the large Madagascar cockroach, about 6cm in length, they attached a wireless leg control module and lithium polymer battery to the top of the insect on the thorax and coupled it with an ultrathin organic solar cell module mounted on the dorsal side of the abdomen.

Once integrated and the battery charged, the animals were made to turn left and right using the wireless remote control.

RIKEN researcher Kenjiro Fukuda, who led the study, said that a hybrid system with both rigid and flexible elements that reflect the changing shapes of the thorax and abdomen during locomotion appears to be an effective design for cyborg cockroaches and such a strategy could be adapted to other insects like beetles or perhaps even flying insects like cicadas.

MODX 70 for the zero carbon sailor

French shipyard Océan Développement has launched the MODX 70 catamaran as a pleasure craft designed to provide a zero carbon emission sailing experience, drawing on "expertise in performance sailing and renewable energy management in a marine context".

The 21.3m (70ft) craft carries two inflatable, automated and retractable Aeroforce wings, each of 125m2, for sailing, which are said to offer a 35% power gain compared to traditional sails, and two 40kW electric engines for motor power.

On board are 70m2 of solar panels on the cabin top for energy supply along with a 230kWh battery pack, while the design integrates bio sourced materials such as linen fibres and cork, a 38% bio-sourced epoxy resin and a PET foam integrating 30% recycled components.

The MODX 70 is designed to be the first energy self-generating yacht, capable of endless travel at zero CO2 emission, promises Océan Développement, whose previous initiatives have included the refit of the 'Race for Water' vessel (ex 'Planet Solar') and the organisation of its around the world odyssey to raise awareness about plastic pollution.