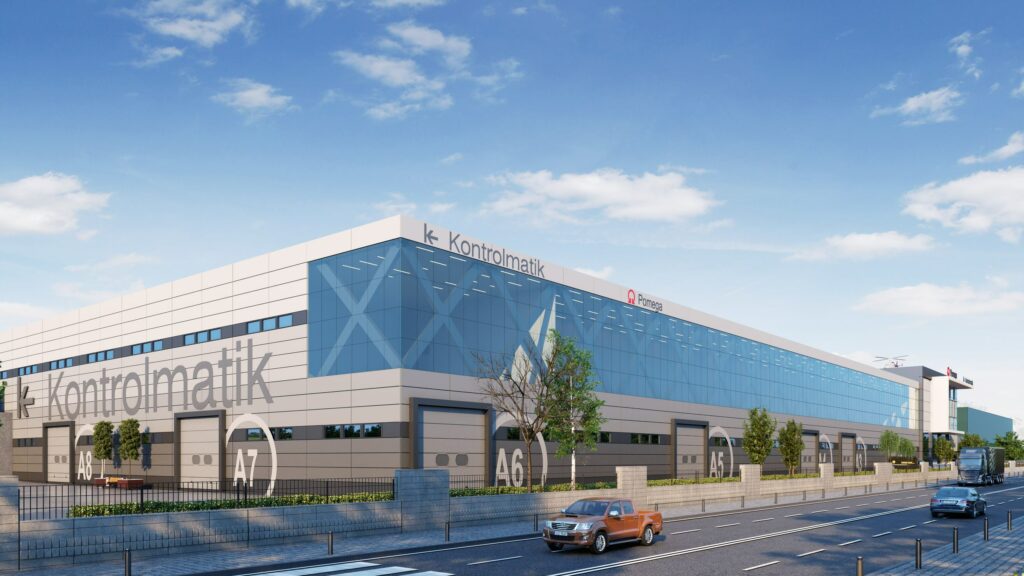 A render of Kontrolmatic's US gigafactory, planned to start production in 2024. Image: Kontrolmatic Technologies/Pomega Energy Storage Technologies.

Turkish group Kontrolmatik Technologies has increased the output of its planned energy storage-focused gigafactory in the US by 50%, thanks to the Inflation Reduction Act (IRA), which Joe Biden signed into law yesterday.
The company announced plans earlier in 2022 to build a lithium-ion battery factory in the US specifically for the utility and industrial-scale stationary energy storage sectors, with 280-305 Ah range lithium iron phosphate (LFP) batteries.
It expects to pick a site within a month and for the facility to start production in 2024, according to an announcement authored by Kontrolmatic's USA CEO Bahadir Yekti who cited the passing of the IRA yesterday as a major factor in the decision to increase its planned capacity from 2GWh to 3GWh.
"Amid the strong support and incentives provided by the recently enacted Inflation Reduction Act for the domestic production of batteries, we were motivated and encouraged to revise our initial business plans for the factory and increase our US factory's capacity to 3 GWh. We have also begun planning for our second US factory as we begin the construction of our first," he said.
The historic bill provides tax incentives for siting battery and energy storage system production within the US and, most significantly, introduces an investment tax credit (ITC) for standalone energy storage which can reduce the capital cost of equipment for downstream projects by 30% or more.
Kontrolmatik is primarily an engineering, procurement and construction (EPC) services group active in the energy, mining, industrial process and transportation sectors, and provides turnkey energy storage system (ESS) solutions.
It is also building a new LFP gigafactory on home soil, which will add to existing ESS assembly and lithium-ion battery production facilities.
Its gigafactory projects, including the US site, are being lead by subsidiary Pomega Energy Storage Technologies. Overall, the company expects to have 12GWh of annual production capacity by 2030 across four gigafactory locations – two in the US and two in Turkey.