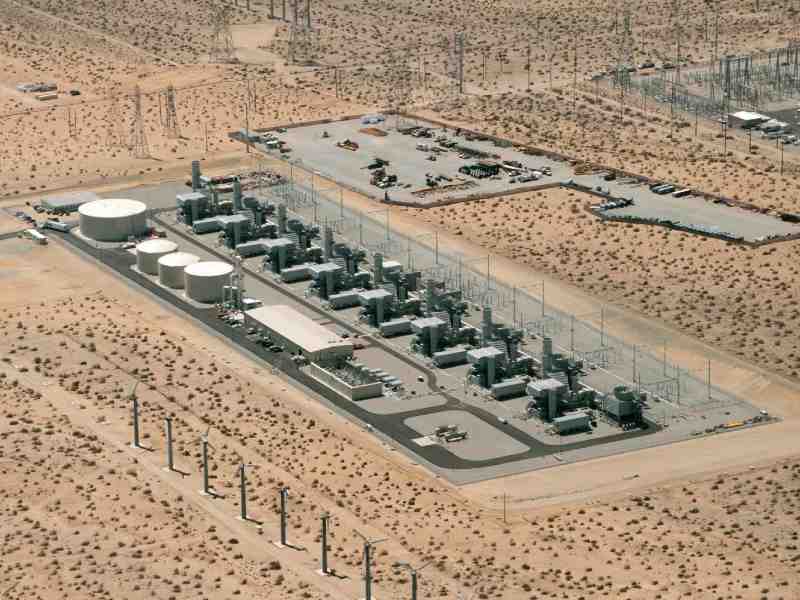 Sentinel Energy Center (Source: GE)

Investment firm Climate Adaptive Infrastructure (CAI) and developer Meridian Clean Energy said they will partner to demonstrate decarbonisation in peaker plants.
The first test site is planned for Riverside, California, where partners are acquiring a 25% stake in the Sentinel Energy Center, an 850MW peaker plant.
Sentinel is a natural gas-fired, simple-cycle facility consisting of eight natural gas-fired GE LMS100 combustion turbine generators, selective catalytic reduction and carbon monoxide equipment, and a zero liquid discharge system.
Other facilities within the project are a 3,200ft-long potable water supply line, a 0.75-acre stormwater retention basin, and five on-site water supply wells. A 2.6-mile-long natural gas pipeline starting from the existing Wildflower Indigo Energy Facility to the plant is also part of the project.
The partners' decarbonisation effort will involve testing blends of hydrogen and natural gas.
"The good news is that the integration of hydrogen and [renewable natural gas] into systems that have historically relied on fossil gas is well underway," said Bill Green, managing partner of Climate Adaptive Infrastructure. "Companies like GE and Siemens understand that the integration of H2 into their combustion systems is now a reality."
Green said that multiple programmes are underway to determine initial hydrogen blend rates and equipment modifications required for implementation.
The partners said that Sentinel's quick-start capability complements the 11GW of intermittent wind and solar serving the greater Los Angeles area.
Green noted the "politicization of gas peakers" has led to a fundamental misunderstanding of what is needed to reach a 100% renewable goal, including the notion that four-hour battery storage can firm all of the intermittent wind and solar on the grid.
"This is simply not possible," said Green. "Without long-duration capacity and long-duration storage, we will experience an unacceptable level of grid instability."
While the investment in Sentinel is a first step, the partners say they plan to replicate the effort in other markets.
Diamond Generating, a unit of Mitsubishi, owns 50% of Sentinel and primarily operates the facility. The other 25% is owned by Guggenheim Partners.
Green did not say where the hydrogen would come from for testing purposes. He noted, however, that other groups have launched plans to produce green hydrogen at commercial scale in the Los Angeles area.
Southern California Gas Co. (SoCalGas) and Bloom Energy are teaming up on a hydrogen-blending project demonstrating how natural gas infrastructure can be decarbonised.