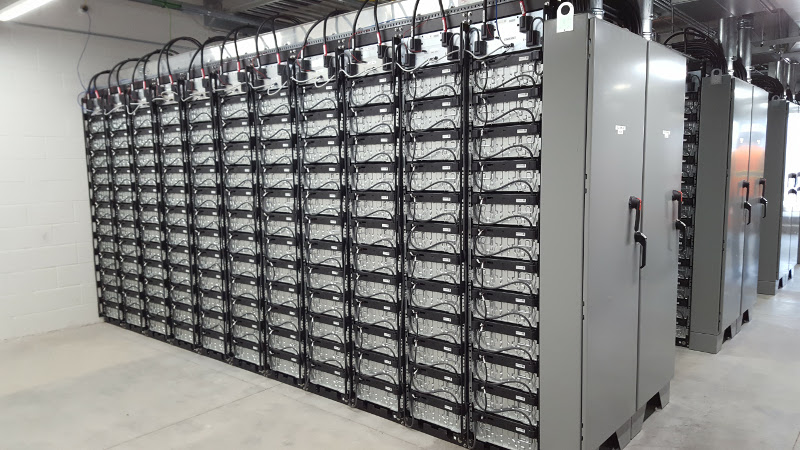 Inside enclosures at a 20MW/80MWh BESS in California which was brought online in 2015 and bought by Ormat in 2020. Image: AltaGas.

US geothermal energy company Ormat Technologies' energy storage division achieved gross margin of 25.3% during the second quarter of this year, as revenues increased by 33.1% year-on-year.
The company develops and owns geothermal and waste heat power plants (aka recovered energy generation) but has diversified into solar PV and more recently into battery storage, entering the market via the 2017 acquisition of storage developer Viridity Energy for around US$35 million.
Its shareholders include Japanese financial services group Orix, which owns a 20% stake.
In 2020, Ormat leadership said that broadening its revenue base by adding an energy storage division was a way to offset slow market conditions in other segments, as it acquired an 80MWh operational project in California.
In Q2 2022 the company's energy storage revenues were US$7.5 million, compared to US$5.6 million in the same period of last year. For the half year just gone, however, revenue of US$14.1 million was a 23.4% drop from US$18.3 million in H1 2021.
Gross margin too has fallen since the first half of 2021, when it was 45.2%, to 19.8% this time out, although Q2's 25.3% gross margin was a big increase from 6.4% in Q2 2021.
Energy storage remains a fairly small portion of Ormat Technologies' overall business: its electricity sales revenues, the biggest portion of its income, were US$151.2 million in Q2. However company leadership has said in the past that it expects demand for energy storage to become "very big" and it wants to be in on the action as it takes off.
The company's overall operating income was US$38.6 million for the quarter, a 34.9% increase year-on-year, while adjusted EBITDA was US$100.7 million for Q2 2022 and US$208.5 million for the half-year, corresponding to rises of 19.1% and 13.5% respectively.
"Ormat's second quarter financial performance demonstrated healthy top-line and Adjusted EBITDA growth, driven by strong performance from our Electricity segment as well as our Energy Storage Segment," CEO Dorn Blachar said.
Blachar added that strong performance in both segments is expected to continue for the rest of the year, with five new projects totalling 73MW brought online recently to contribute to that.
The company's generation portfolio of geothermal, solar PV and energy storage will grow to 1.5GW next year and it will deliver US$500 million adjusted EBITDA on a run-rate basis "towards the end of 2022," the CEO said.