Photo created by freepik

Global investment in renewable energy rose to $226 billion in the first half of 2022, setting a new record for the first six months of a year.
This was a key finding in the latest report from research firm BloombergNEF (BNEF), Renewable Energy Investment Tracker 2H 2022.
The increase in investor appetite is the result of greater demand for clean energy to tackle the energy crisis, as well as due to the very high energy prices currently being seen in many markets around the world.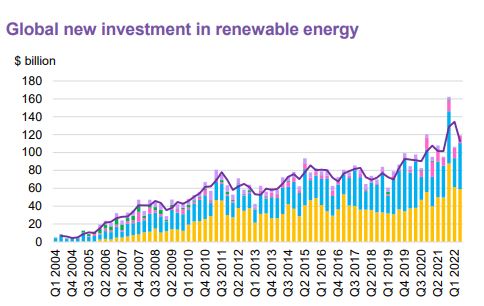 Image credit: BNEF

Albert Cheung, head of analysis at BloombergNEF, said: "Policymakers are increasingly recognising that renewable energy is the key to unlocking energy security goals and reducing dependence on volatile energy commodities.
"Despite the headwinds presented by ongoing cost inflation and supply chain challenges, demand for clean energy sources has never been higher, and we expect that the global energy crisis will continue to act as an accelerant for the clean energy transition."
Both the solar and wind sectors have been impacted by rising finance and materials costs, as well as supply chain disruptions. Even in the face of these challenges, wind project financing was up 16% from a year earlier, at $84 billion, and investment in new solar projects rose to a record-breaking $120 billion, up 33% from the first half of 2021.
The report noted significant investment growth in China. The country's large-scale solar investments totaled $41 billion in the first six months of 2022, up 173% from the previous year, and $58 billion was invested in new wind projects, up 107% year-on-year.
Investment in offshore wind was up 52% from the previous year, to $32 billion.
Chelsea Jean-Michel, offshore wind analyst at BNEF, said investments in 2022 "will flow into projects coming online in the next few years as the offshore wind installed base is set to grow tenfold from 53GW in 2021 to 504GW in 2035".
"The United Kingdom, France and Germany are just a few of the countries that have increased their offshore wind targets in the first half of 2022, signaling further support for investment in the technology."
One category that saw falling investment was public equity issuances. Public market issuances for renewable energy companies dropped 65%, totaling $10.5 billion.