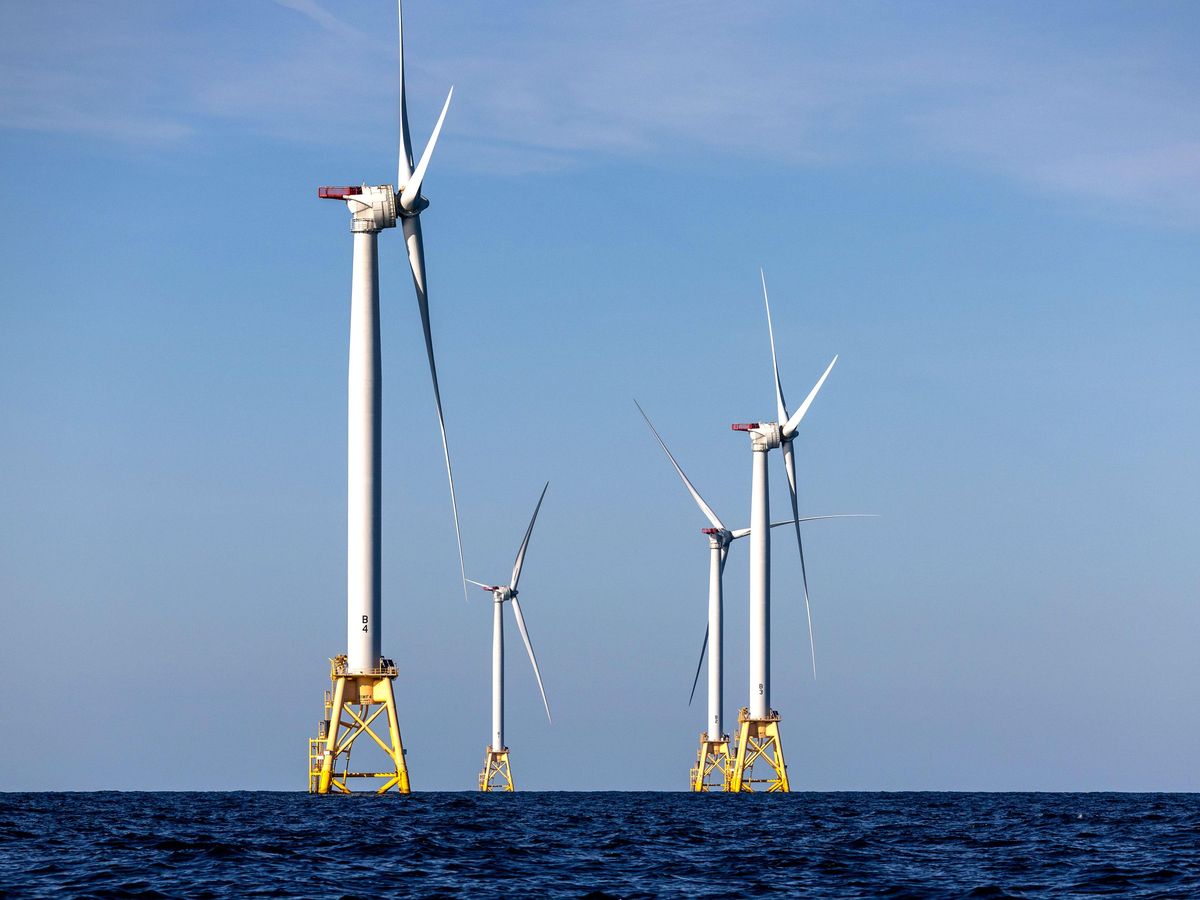 Wind turbines generate electricity at the Block Island Wind Farm on 7 July 2022 near Block Island, Rhode Island. The five-turbine, 30-megawatt project was developed by Deepwater Wind and began operations in December 2016 at a cost of nearly $300 million. JOHN MOORE/GETTY IMAGES

Early in July, Rhode Island's governor signed legislation mandating that the state acquire 100 percent of its electricity from renewable sources by 2033. Among the state's American peers, there's no deadline more ambitious.
"Anything more ambitious, and I would start being a little skeptical that it would be attainable," says Seaver Wang, a climate and energy researcher at the Breakthrough Institute.
It is true that Rhode Island is small. It is also true that the state's conditions make it riper for such a timeframe than most of the country. But watching this tiny state go about its policy business, analysts say, might show other states how to light their own ways into a renewable future.
Rhode Island's 2033 deadline comes in the form of a renewable-energy standard, setting a goal that electricity providers must meet by collecting a certain number of certificates. Electricity providers can earn those certificates by generating electricity from renewable sources themselves; alternatively, they can buy certificates from other providers. (Numerous other states have similar standards—Rhode Island's current standard is actually an upgrade to an older standard—and policy wonks have mooted a national standard.)
Today, it might seem a bit optimistic to pin hopes for renewable energy on a state that still gets 89 percent of its electricity from natural gas. Much of the meager wind power that does exist comes either from other states or from the 30-megawatt Block Island Wind Farm—the first offshore wind farm in the United States—which consists of just five turbines and only came online in 2016.
But Rhode Island plans to fill the gap with as much as 600 megawatts of new wind power. To aid this effort, it has partnered with Ørsted, which could bring a critical mass of turbine expertise from Europe, where the sector is far more advanced. "I think that adds greatly to the likelihood of [Rhode Island's] success," says Morgan Higman, a clean-energy researcher at the Center for Strategic and International Studies, in Washington, D.C.
The policies in the package are, indeed, quite specific to Rhode Island's position. Not only is it one of the least populous states in the United States, it already has about the lowest per capita energy consumption in the country. Moreover, powering a service-oriented economy, Rhode Island's grid doesn't have to accommodate many energy-intensive manufacturing firms. That makes that 2033 goal all the more achievable.
"It's better to have attainable goals and focus on a diverse portfolio of policies to promote clean energy advancement, rather than sort of rush to meet what is essentially…a bit of a PR goal," says Wang.
That Rhode Island is going all-in on something this maritime state might have in abundance—offshore wind—offers another lesson. Higman says it's a good example of using a state's own potential resources. Moreover, the partnership with Ørsted might help the state harness helpful expertise.
In similar fashion, Texans could choose to double down on that state's own wind-power portfolio. New Mexico could potentially shape a renewable-energy supply from its bountiful sunlight. Doing this sort of thing, Higman says, "is the fastest way that we see states accelerate renewable-energy deployment."
Rhode Island's policy does leave some room for improvement. Its focus on renewables looks past New England's largest source of carbon-free energy: fission. Just two nuclear power plants (Millstone in Connecticut and Seabrook in New Hampshire) pump out more than a fifth of the region's electricity. A more inclusive policy might take note and incentivize nuclear power, too.
Perhaps most important, any discussion of energy policy should note that Rhode Island's grid doesn't exist in a vacuum; it's linked in with the grids of its surrounding states in New England, New York, and beyond. (Indeed, it has repeatedly partnered on setting goals and building new offshore wind power.)
If neighboring states implement similarly aggressive standards without actually building new energy capacity, then there's a chance that when all the renewable energy certificates are bought out, some states won't have any renewable energy left.
But analysts are optimistic that Rhode Island can do the job. "Rhode Island does deserve some kudos for this policy," says Wang.
"It's really tempting to applaud states for their goals. This is a useful example of where setting a goal is not very meaningful," adds Higman. "Identifying the means and strategies and technologies to achieve that goal is the most important thing. And Rhode Island has done that."