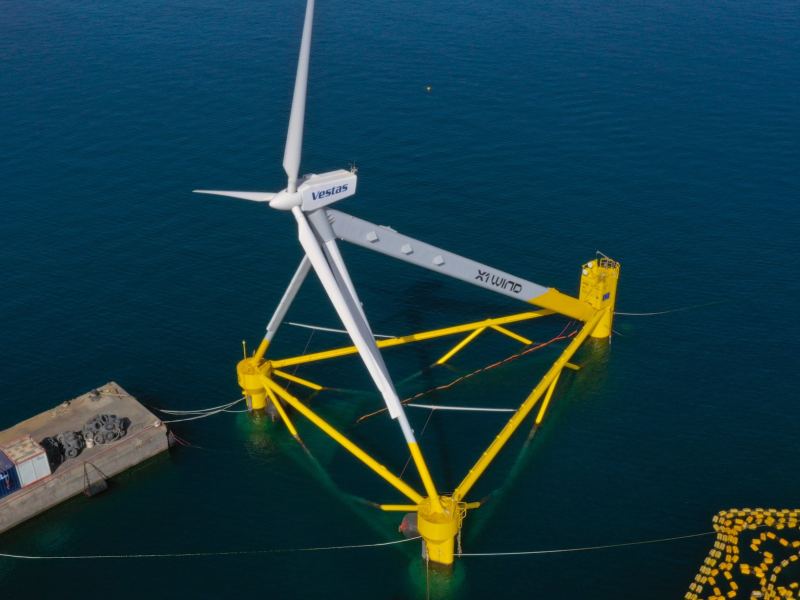 X1 Wind ready for PivotBuoy prototype installation after successful dynamic cable deployment. Credit: X1 Wind

Barcelona-headquartered technology developer X1 Wind is ready for the final installation of its floating wind prototype, PivotBuoy, at the Oceanic Platform of the Canary Islands (PLOCAN) Test Site.
Having installed the modular concrete gravity anchoring system last spring, this is its first ocean deployment project after completing the dynamic cable lay.
X1 Wind's electrical engineering manager Adrian Oliva said in a statement: "The 20kV dynamic cable will allow us to fully validate the floater and wind turbine performance, feeding the electricity to PLOCAN's smartgrid, as well as transmitting data through its fiber optic connection.
"We will [also] be able to validate the cable's dynamic behaviour. Understanding how our TLP mooring system reduces motions and loads on the cable, compared to catenary systems, is crucial as it will reduce fatigue and potentially extend the lifetime of this critical component."
PivotBuoy
X1 Wind's floating wind technology, PivotBuoy, is fitted with a turbine in a downwind configuration, enabling the structure to 'weathervane' and orientate passively to maximise energy yields.
The platform uses a Tension Leg Platform (TLP) mooring system, which reduces the platform and cable dynamic motions, minimises the footprint on the seabed and allows for installation in deep waters.
According to Oliva, the X30 platform is equipped with all the electrical systems that the commercial platforms will incorporate. The Vestas V29 turbine, originally designed for fixed foundations, has been retrofitted using a full-converter supplied by ABB and the control has been optimised to floating conditions.
The voltage has been increased to 20kV with a transformer, to allow the connection to PLOCAN's smartgrid with the 1.4km-long dynamic cable, which will be connected to the platform using a connector.
The PivotBuoy concept has been model tested in the lab, first at 1:64 scale and then at 1:50 scale at ECN Hydrodynamic and Ocean Engineering Tank under the Marinet2 project grant.
X1 Wind's team is now waiting for a suitable weather window to complete the towing and hook-up of the prototype. By testing in a real life environment, the project will validate critical innovations related to assembly, installation and O&M techniques.