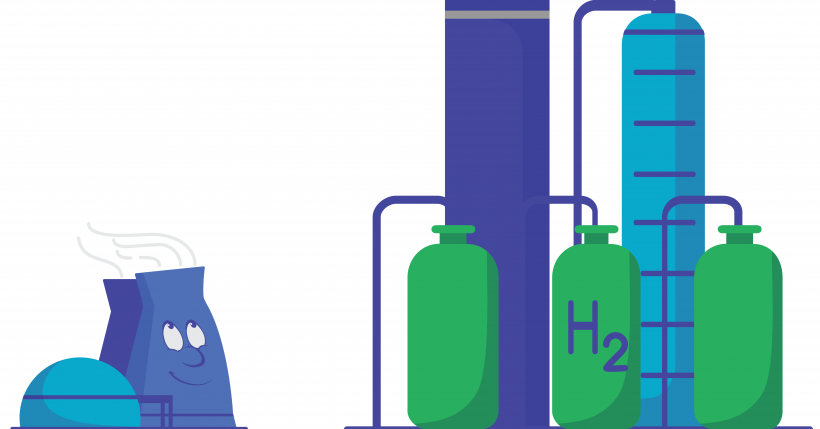 Source: U.S. Department of Energy.

More than 40 organizations representing industry, government, nonprofit and academia formed a new coalition to advance nuclear hydrogen.
The Nuclear Hydrogen Initiative (NHI) would raise awareness among policymakers, businesses, investors, and other key stakeholders about how hydrogen generated from nuclear can be a critical climate solution.
NHI would also facilitate the development of nuclear hydrogen demonstrations, engage investors and advocate for policies that support nuclear hydrogen deployment.
Many believe nuclear has the potential to produce hydrogen in a clean and reliable way. Hydrogen is seen as an important path to drive decarbonization – including in hard-to-abate sectors.
NHI recently published a report summarizing the policy landscape for nuclear hydrogen around the world. It found 26 countries and the European Union have issued hydrogen roadmaps or strategies. 21 of those plans were released between 2020 and 2021. At the time of publication, 11 additional countries were in the process of preparing hydrogen policies or strategies.
Countries with nuclear hydrogen production in their roadmaps and strategies included the United States, Canada, Brazil, the United Kingdom, France, Russia, Japan, South Korea and the United Arab Emirates.
The U.S. Department of Energy (DOE) is funding regional hydrogen hubs to help decarbonize multiple sectors of the economy and push the U.S. closer to 2050 net-zero emissions. The money comes from the infrastructure law passed in 2021. At least one hub would have to produce hydrogen from nuclear energy.
"We envision our nuclear plants becoming versatile clean energy centers that not only generate 24/7 carbon-free electricity for the grid, but also bring together clean hydrogen, renewables and other new and emerging technologies to power every corner of our economy," said Colleen Wright, vice president of Corporate Strategy for Constellation, one of the NHI members.
NHI participants are listed here.