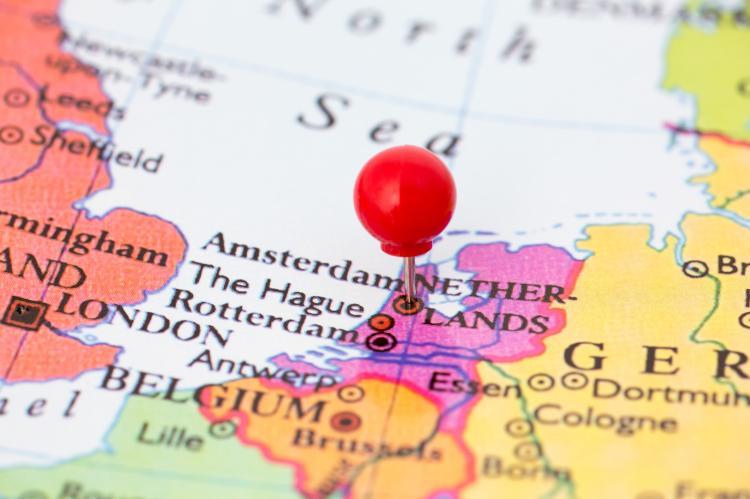 The Netherlands on the map (© Shutterstock/BIGANDT.COM)Dutch Minister for Climate and Energy Rob Jetten, on June 29, 2022, announced new plans to construct a national transport network for hydrogen.

According to the announcements made by the minister on Wednesday, June 29, Gasunie would develop the hydrogen network in the Netherlands in the coming years, after which serve as a Transmission System Operator (TSO). Gasunie will be involved in hydrogen storage and importation.
Due to the expected offshore hydrogen production growth in the North Sea, Jetten will investigate whether Gasunie can also serve as a grid operator at sea. These new plans are part of the effort to develop a more sustainable energy system in the Netherlands.
The Netherlands Has What It Takes to Become a Hydrogen Country
The Netherlands has all it takes to make hydrogen a success. The country's location on a shallow sea makes it suitable for instilling wind turbines, and the existing transport and storage infrastructure can make it ambitious in how it uses carbon-free hydrogen, from largescale production to transport and storage.
"Gasunie is very positive about the hydrogen plans announced today by Minister Jetten. We believe that hydrogen will play a major role as a future energy carrier. We now start the construction of the public hydrogen network in the Netherlands, which will be a boost for the transition towards a more sustainable energy system," said Hann Fennema, Gasunie's CEO.
In the future, the Netherlands' hydrogen network will link seaports with large industry clusters to hydrogen storage locations. Connections with Belgium and Germany (Ruhr area and Hamburg) are also ongoing. The connections will spur the growth of the hydrogen market.
Clean and Efficient
The Netherlands could make huge strides if it uses the already existing infrastructure. About 85% of the national network will consist of a recycled natural gas pipeline. These pipelines will be available in the future because natural gas transportation will become less and less. This will benefit the environment, and little excavation work will be needed. It also carries economic benefits because the reuse of existing infrastructure is much cheaper.
A Sustainable, Strong Economy
Hydrogen will significantly contribute to making the Netherlands more sustainable. It will mainly help the country's companies and industries to work cleaner and more economically in the coming years.
Industries in the Netherlands currently account for about 25% of national CO2 emissions. Hydrogen as a fuel and feedstock can reduce industrial emissions and contribute to the 2030 and 2050 climate targets.