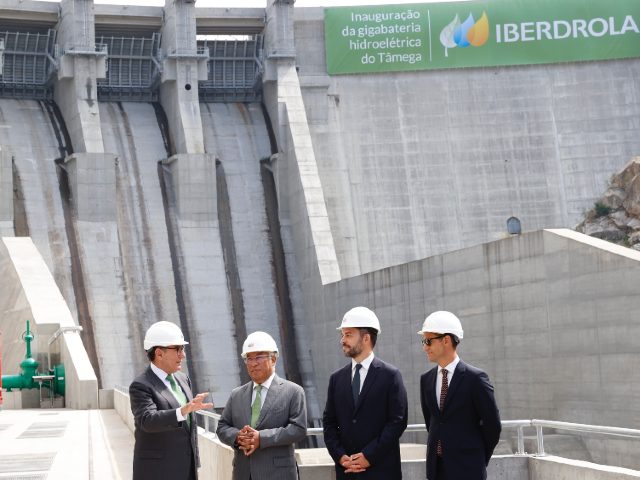 CEO of Iberdrola Ignacio Galán was joined by Portugal's Prime Minister, António Costa to officially open the project. Credit: Iberdrola

Spanish utility Iberdrola has officially opened Tâmega Giga Battery in Portugal, touted as one of Europe's largest pumped storage hydroelectric facilities.
The 1,158MW Tâmega facility is capable of storing 40 million kWh, equivalent to the energy consumed by 11 million people during a period of 24 hours.
Located on the Tâmega river, the project consists of three power stations, namely Gouvães, Daivões and Alto Tâmega.
The project required an investment of €1.5 billion ($1.5 billion), an amount Iberdrola chairman Ignacio Galán plans to double in the coming years in Portugal. The additional €1.5 billion will be allocated to constructing new solar and wind projects currently under development in the region.
Ignacio Galan commented in a statement: "The opening of Tâmega reinforces the potential of this technology to solve Europe's energy storage problem, as well as strengthening energy security. Tâmega will be central to Portugal's energy transition, and we believe the project can kickstart a renewed focus on developing this technology across Europe.
"The transition to net zero requires a huge uplift in storage capacity. As it stands today, no other technology offers more than pumped storage hydro does."
According to Iberdrola, pumped hydro functions like a giant battery and is an optimal way to ensure flexibility to keep the grid balanced.
The European Association for Storage of Energy (EASE) estimates that the European Union will require 200GW of energy storage by 2030 and 600GW by 2050.
In order to support this goal, Iberdrola recently started up Gorman, its first commercial-scale battery system in Ireland. The 50MW facility has a 25MWh capacity – a system made up of more than 4,000 modules within 16 containers.
Also, the Spanish utility inaugurated the Arañuelo III plant earlier this year, the first large-scale solar PV power plant integrated with an energy storage system in Spain. The 40MW solar PV system comprises a 3MW/9MWh battery energy storage component.