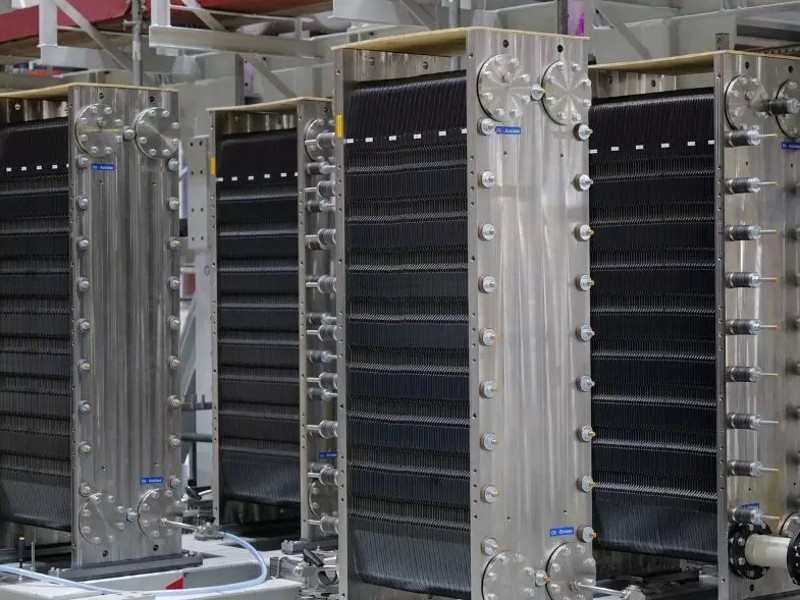 Image: Air Liquide
Siemens Energy and Air Liquide have announced a joint venture for the production of industrial-scale renewable hydrogen electrolysers.
The yet-to-be-named JV with 74.9% holding by Siemens Energy and 25.1% by Air Liquide – and subject to approval by the relevant authorities – marks a major boost in the scale-up of electrolyser production in the region and for its hydrogen economy in general.
The JV will be headquartered in Berlin, where also a multi-gigawatt facility for the production of electrolysis modules is being established.
This facility, in which production is expected to begin in the second half of 2023 with a ramp-up to an annual capacity of 3GW by 2025, will supply stacks to both groups for their respective customers and to serve what is anticipated as a rapidly growing market.
Siemens Energy and other companies have committed to a ten-fold scale-up in electrolyser production in Europe – from approximately 1.75GW/year currently to 17.5GW/year – by 2025.
The companies utilise proton exchange membrane (PEM) electrolysis technology, which they say features a high degree of efficiency and is ideally suited to harvest volatile renewable energy.
The companies also have agreed to dedicate R&D capacities to the co-development of the next generation of electrolyser technologies.
"To make green hydrogen competitive, we need serially produced, low-cost scalable electrolysers," said Christian Bruch, CEO, and president of Siemens Energy AG.
"We also need strong partnerships. Together with Air Liquide, we look forward to implementing innovative solutions and collaborating to shape this new hydrogen market."
The companies anticipate their portfolio of hydrogen projects will create a solid basis for the rapid ramp-up of electrolysis production capacity.
One of the first projects is Air Liquide's Normand'Hy electrolyser project with a capacity of 200MW expected in the first phase, located in the Port-Jérôme, Seine estuary industrial hub in Normandy, France. The assembly of the electrolyser systems for this project is planned to be made in France, with commissioning scheduled for 2025.
François Jackow, CEO of Air Liquide, adds: "The creation of this Franco-German joint venture is a major step towards the emergence of a leading European renewable and low carbon hydrogen ecosystem."
For its part, Siemens Energy's most recent project announcement is a 50MW electrolyser for the Danish developer European Energy for e-methanol production primarily for offtake for shipping. The start of commercial methanol production is planned for the second half of 2023.
The companies intend to apply for 'large projects' funding under the EU's Innovation Fund, Green Deal and Important Project of Common European Interest (IPCEI) scheme for hydrogen.