Hydrovolt, Europe's largest electric vehicle (EV) battery recycling plant, has begun operations in Norway. With a clean and innovative approach, it expects to recycle 500,000 EV batteries by 2030.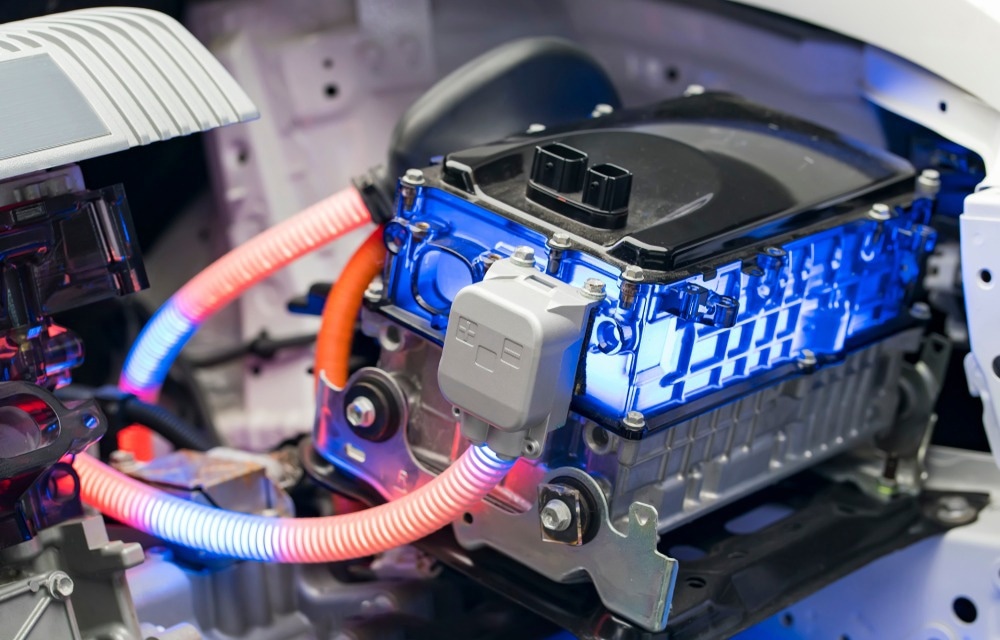 Image Credit: asharkyu/Shutterstock.com
Hydrovolt: An Overview

Hydrovolt, a joint venture of Hydro and Northvolt, is recycling electric vehicle batteries at its plant in Norway. It is now the biggest EV battery recycling facility in Europe with the capacity to recycle 12,000 tons of batteries annually, equivalent to approximately 25,000 electric vehicle batteries.
The Hydrovolt recycling plant is completely automated and will run on renewable energy. It can recycle up to 95 percent of metals from EV batteries, including aluminum, copper, plastic, and ferrous metals, as well as black powder comprising cobalt, manganese, nickel, and lithium.
Hydrovolt provides a sustainable solution for the end-of-life management of EV batteries and contributes to a circular economy by recovering valuable metals and other materials using innovative and clean technology.
What Will the Hydrovolt Recycling Plant Be Used For?

The plant will process more than 8,000 tons of automotive battery modules annually, roughly equivalent to 23,000 mid-size electric vehicle battery packs. Useful materials will be sent for reproduction after recycling and separation of raw materials.
Recycled aluminum will be provided to Hydro for recirculation into commercial-grade aluminum products. Black mass, which contains cobalt, manganese, nickel, lithium, and graphite, will be transferred to Northvolt battery facilities in Sweden for additional recycling.
With the help of recycled black mass, these facilities will have sufficient materials to produce 4 GWh of new battery cells.
The plant has implemented several new concepts to maximize the recovery of materials, including a dust collection system that captures valuable materials usually lost during machining.
As a result of Hydrovolt's strategy, most of the valuable material from the batteries is recovered and reused in the manufacturing of new products, with very little material discarded.
By 2030, Hydrovolt intends to source half of all battery feedstock from recycled batteries. This is a massive undertaking, given that the demand for electric vehicles will continue to skyrocket.
Benefits of the Hydrovolt Electric Vehicles Battery Recycling Plant

Hydrovolt will produce battery cells for electric vehicles and recycle exhausted or damaged cells. The raw materials obtained after recycling will help produce new batteries.
Many electric vehicle batteries contain more lithium and cobalt than natural ores. Therefore, if metals from used batteries can be extracted more cheaply than from natural ore, the price of EV batteries will fall.
Setting aside the environmental benefits of recycling alone, creating a new industry associated with recycling will have huge financial returns, including creating jobs along the entire chain.
Importance of the Electric Vehicle Battery Recycling Facility

Arvid Moss, executive vice president of Hydro, believes batteries have an important role in the global shift to renewable energy, and Hydrovolt is establishing a sustainable supply chain for batteries in Europe.
Recycling batteries will play an important role in the long-term viability of the battery industry and will be essential to meet European regulations on batteries, such as upcoming mandatory recycling targets.
The aluminum recovered from Hydrovolt facilities only requires approximately 5% of the energy compared with primary aluminum production, and the recovered black mass cells can be used to produce new batteries.
Recycling black mass will also reduce dependence on mining rare earth metals, and using recycled materials instead will reduce the carbon footprint of batteries. This will help secure the long-term viability of electric batteries.
The long-term goal of Hydrovolt is to produce new batteries from more than 50% recycled materials, which will constantly increase with the passage of time.
Supporting a Circular Electric Vehicle Battery Industry in EuropeEurope is currently engaged in a massive economic endeavor to transition industries towards net-zero by 2050.
Batteries are essential to this transition, particularly for long-term energy storage and electric vehicles. However, the production of batteries demands vast quantities of resources, including rare metals mining.
Hydrovolt can recover these metals from recycled batteries and repeatedly use them to create new batteries. Recycling can also produce batteries of the same quality while leaving a far smaller carbon footprint than mining by using less energy and water and producing fewer carbon emissions.
Recycling benefits the environment and increases the availability of metals, which are essential for shifting society towards clean energy.
The Future of EV Battery Recycling

Hydrovolt is exploring the feasibility of growing its capacity in Europe with the long-term objective of recycling 150,000 electric vehicle batteries by 2025 and 500,000 electric vehicle batteries by 2030.
The demand for EV batteries is rising at an exponential rate as electric vehicles (EVs) are becoming more popular. Recycling technology has to continually progress to achieve a circular economy for batteries. Government funding and legislation are needed to create a stable recycling supply chain for EV batteries.
Many stakeholders in the supply chain are investing in recycling end-of-life electric vehicle batteries as recycling EV batteries will directly support the sustainability of the electric vehicle industry and be crucial to the global transition to clean energy.