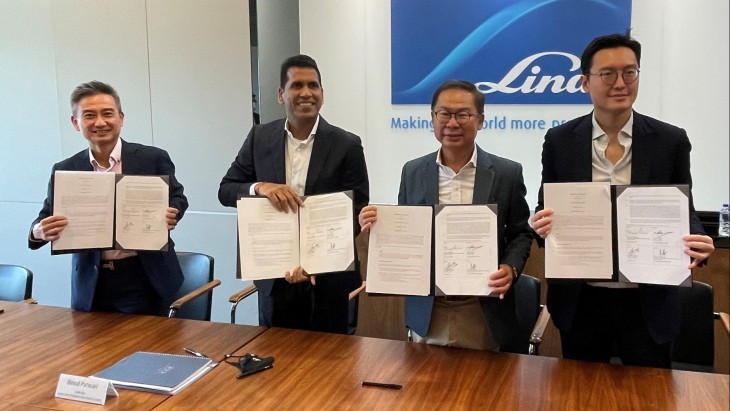 (From left to right) Clement Goh, CEO - Southeast Asia, ST Telemedia Global Data Centres; Binod Patwari, SVP, APAC Growth, Linde Gas Asia; John Ng, CEO, YTL PowerSeraya Pte. Limited; Hann Yeoh, Executive Director, YTL Power International

The hydrogen power is planned to be used in the country's data centre ecosystem.
Linde, ST Telemedia Global Data Centres, YTL PowerSeraya Pte. Limited and YTL Data Center Holdings Pte. Ltd. signed a memorandum of understanding for collaboration to study the feasibility of using hydrogen-generated power in Singapore's data centre ecosystem.
In a joint statement, the companies said this move will contribute to Singapore's sustainability efforts and complement its plans to import renewable electricity.
Singapore's power sector accounts for 40% of the country's overall emissions, they said, citing data from the Energy Market Authority (EMA). They also said that under the Singapore Green Plan 2030, the adoption of low-carbon alternatives such as clean hydrogen will play a key role in the energy transition.
The companies said the partnership is aligned with their respective goals and commitments to a global economy, with ST Telemedia announcing last year its environmental, social, and governance strategy and commitment to carbon-neutral data centre operations by 2030, along with the use of renewable energy.
ST Telemedia also participated in various green initiatives including a pilot auction of carbon credits by Climate Impact Exchange and was recognised for its Leadership in Energy and Environmental Design Gold-certified green data centres.
Meanwhile, YTL PowerSeraya targets to reach carbon neutrality by 2050 and reduce its greenhouse gas emissions by 60% by 2030, whilst YTL Data Centre aims to build sustainable data-driven ecosystems run by renewable energy.
Linde, which has a $2.5b hydrogen business and over 150 major hydrogen production plants globally, announced its target to reduce its greenhouse gas emissions by 35% by 2035.