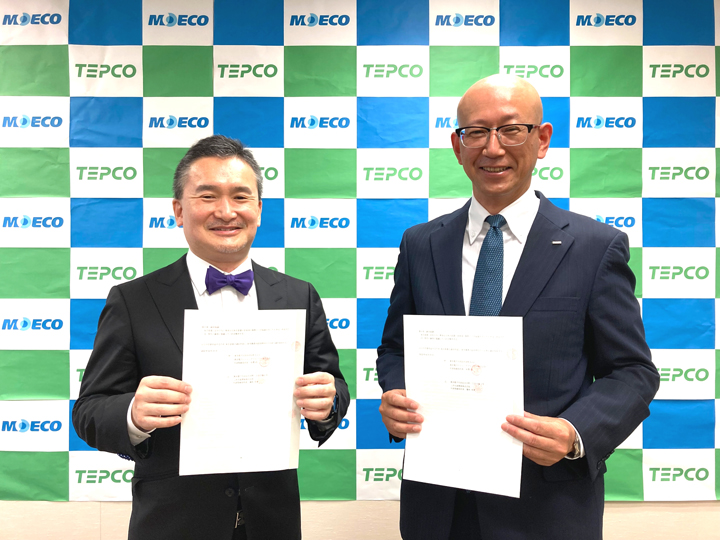 Agreement signing ceremony between TEPCO and MOECO (source: TEPCO)

A joint consideration between TEPCO and MOECO aims to develop a geothermal project in Japan using new heat recovery technology.
In a release, Japanese companies Mitsui Oil Exploration Co. Ltd (MOECO) and TEPCO Renewable Power Inc. (TEPCO) announced a joint consideration on geothermal power generation that employs new heat recovery technology. There will be a selection of candidate areas for this development, and exploration is scheduled to start by 2025 at the earliest.
The new heat recovery technology will use subterranean loops of wells to circulate water from the surface. This approach is unique in that it does rely on subsurface permeability for geothermal power generation, in contrast to more conventional geothermal projects. This reduces the difficulty of exploration and shortens the lead time between exploration and development. Since no geothermal fluids are directly extracted, the new technology also reduces the load on the environment.
This new technology may be a game-changer in the geothermal power generation industry as it allows development in regions that would otherwise not be considered for conventional geothermal power. This is envisioned to facilitate the growth of the geothermal industry in Japan, which has been frequently described as having the third-largest geothermal resource in the world. The joint consideration aims to contribute to the regional economy as well as to understand the sentiment of residents in the regions that will be selected as candidates for exploration.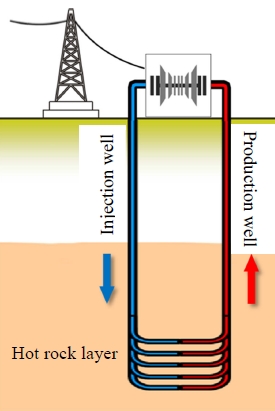 Concept diagram of wells used with this new technology (source: TEPCO)
With this joint consideration, MOECO will provide their knowledge and technical prowess in the assessment and development of underground resources cultivated through the years of developing oil and natural gas projects. TEPCO brings to the table their knowledge and technical prowess in construction and operation of power stations.
"MOECO entered the geothermal power industry in 2012 and is currently involved in five projects in Japan. In particular, our independent surveys in Niseko, Hokkaido have shown extremely high potential for this new technology and we are moving forward with demonstration tests." said MOECO President and CEO Hirotaka Hamamoto.
"This new technology lowers the hurdles of conventional geothermal power and will help to expand renewable energies that leverage the attributes of volcanically active Japan. This joint consideration will lead to quick commercialization and further development of this technology." added Hamamoto.
"We are very pleased to partner with MOECO to promote geothermal power. There is high potential for geothermal power in Japan and great expectations for its use as a renewable energy. Since this joint consideration for utilizing the new technology can reduce the load on the environment compared with conventional geothermal power development, it matches TEPCO RP's principle of harmony with nature." said TEPCO President and CEO Masashi Nagasawa.